This is a list of School shootings after the Gun Free Schools Act was signed into law by President George W.H. Bush
2018, 14 February – Marjory Stoneman Douglas High school shootings – (17 dead)
2017, November 14 – Rancho Tehama Reserve shootings – (6 dead)
2015, 1 October – Umpqua Community College shooting – (10 dead)
2014, October 24- Marysville Pilchuck High School shooting – (5 dead)
2013, June 7 – 2013 Santa Monica shooting – (6 dead)
2012, December 14- Sandy Hook Elementary School shootings – (28 deaths)
2012, 2 April – Oikos University shooting – (7 deaths)
2008, February 14 – Northern Illinois University shooting – (6 deaths)
2007, 6 April – Virginia Tech massacre – (33 deaths)
2006, October 2 – West Nickel Mines School shooting – (6 deaths)
2005, 21 March – Red Lake shootings – (10 deaths)
1999, 20 April – Columbine High School massacre – (15 deaths)
1998, May 21 – Thurston High School shooting – (4 deaths)
1998, March 24 – Mitchell Johnson and Andrew Golden – (5 deaths)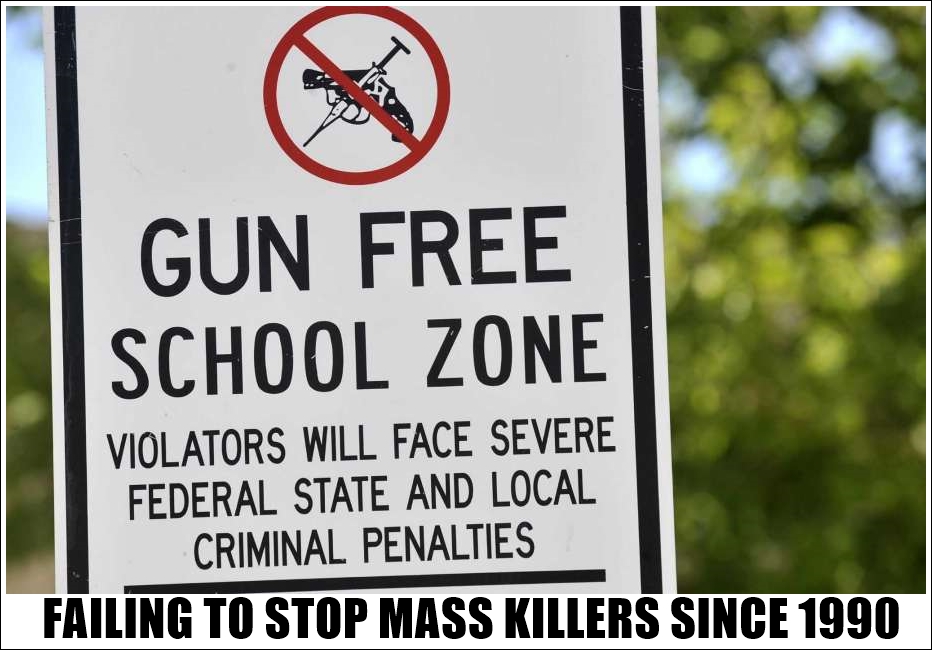 You figure that after 15 events, even the most dense in the Gun Control community have to start thinking that maybe the Gun Free Zones are not working and maybe we should rethink the whole scheme.
Nope. We are now gonna have marches to demand to expand the Hunting Preserve for the Criminally Insane to get more choices for his hunt.
"El hombre es el único animal que tropieza dos veces en la misma piedra." "Man is the only animal that stumbles twice on the same stone" or in this case fifteen and counting till the next government-sponsored mass killing courtesy of the Gun Free Zones.