TAMPA -– Thousands of gun enthusiasts flocked to the Florida State Fairgrounds for the Florida Gun Show event.

Organizers say they had a record number of people attend the event on Saturday, almost 7,000, and expect more Sunday.

Manager for the Florida Gun Show, George Fernandez, says they've never seen such a big crowd.
Florida Gun Show sees "record number" of attendees despite gun control debate.
You threaten us with more Gun Control, we buy more guns. And more ammo. Gun Control politicians claim they don't want more guns in hands of untrained civilians, yet I am sure the NICS checks will blow the roof  just the last week of this month.
And I had to make a screen capture of this image from the accompanying video. It so destroys myths and lies of the Opposition.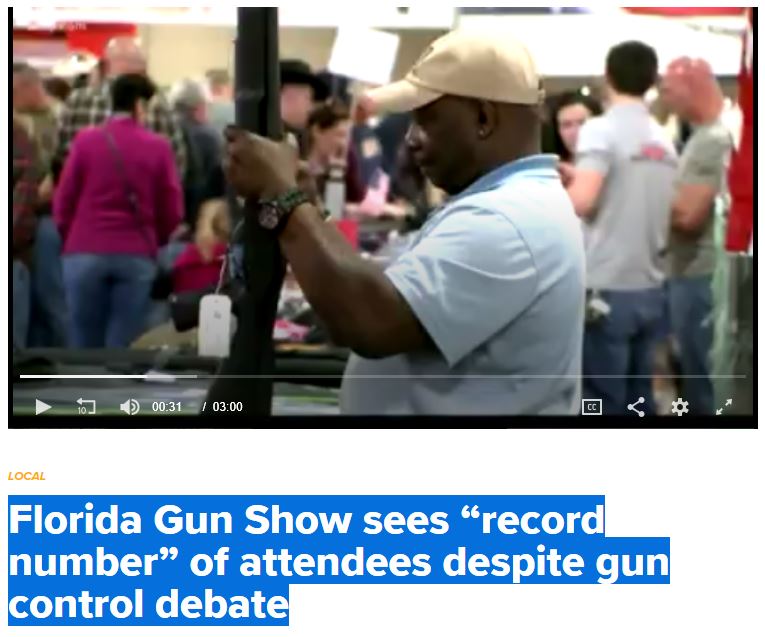 A Black man buying a tactical shotgun in a supposed enclave of White Supremacists. The Narrative cannot be maintained if they keep showing evidence like this!
I am wondering how many thousands new AR and other semi auto rifles have found a home this weekend. I wonder how many tens of thousands will be adopted in the days to come.
Dear Liberals, the best way not to spread guns is trying not to ban them.
Just a thought.