This is just now being celebrated over the Gun Control Tweeter accounts. If you look closely, you can almost see the champagne popping.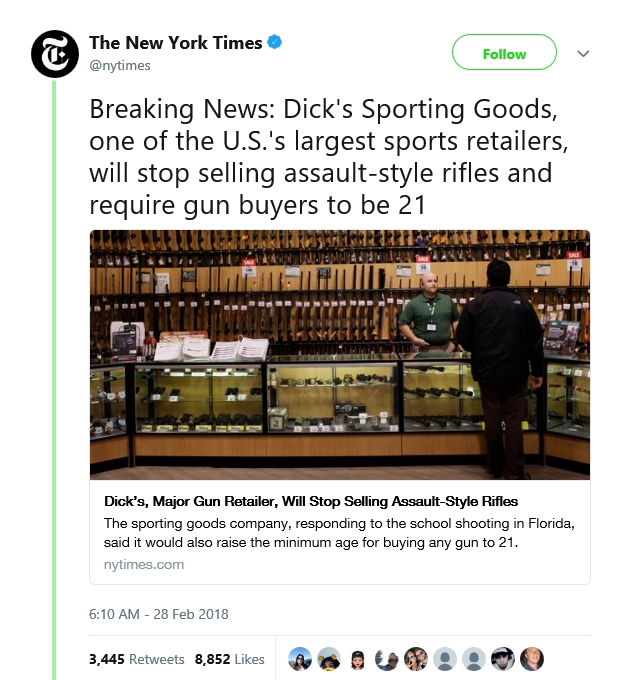 How few do remember that Dick's already had pulled semi auto rifles from their stock after Sandy Hook:
(TheBlaze/AP) — One of the country's largest sporting goods chains says it's suspending sales of "sporting rifles" nationwide because of the recent school shooting in Connecticut.
Dick's Sporting Goods also says it's also removing all guns from display at its store closest to Newtown, where the massacre took place.

"We are extremely saddened by the unspeakable tragedy that occurred last week in Newtown, CT, and our hearts go out to the victims and their families, and to the entire community.
Out of respect for the victims and their families, during this time of national mourning we have removed all guns from sale and from display in our store nearest to Newtown and suspended the sale of modern sporting rifles in all of our stores chainwide.
We continue to extend our deepest sympathies to those affected by this terrible tragedy."
Dick's Sporting Goods Suspends Sale of Certain Rifles After Sandy Hook Tragedy
I am guessing Dick's suffered an important loss of revenue back then and quietly returned the rifles to the stores. But since this time the rifle used in the Parkland shooting was bought from them, they felt they needed to Virtue Signal hard and heavy again.
For a company that bought the remnants of Sports Authority (who went K-Mart and stopped selling ammunition with fanfare and all), the lesson of not crossing Gun Owners seem not to have been assimilated.
My guess they will be back again. Quietly again.