It is the Whole Foods of camping supply stores.  REI shoppers are the hipsters of the camping world.  Everything they sell is ridiculously overpriced.  REI makes Gander Mountain seem reasonable.  Of course, when you have a climbing wall in the middle of our store, you have to pay for that somehow.
REI has never sold guns.  It specializes in camping, climbing, skiing, hiking, and other outdoor sports.
That didn't stop them from jumping on the post Parkland virtue signaling.
REI halts orders from Vista Outdoor over its response to Parkland shooting
Vista Outdoors is a big company.  Not just does it include Savage and Federal Ammo, but non gun companies like Bell Helmets, Tasco, Bushnell, Bolle, Blackhawk, Camp Chef, Camelbak, etc.
We're talking about mountain biking, skiiing, and hiking equipment.  Very poplar brands too.
When REI drops the sale of Camelbak products, I think REI will be hurt by that a lot more then Vista Outdoors.
American Outdoor Brands owns Smith & Wesson, and Schrade, which is a brand REI carries.  CRKT has a partnership with Ruger.  Will REI be dropping those too?  How about Benchmade and their relationship with H&K.
Hell, every knife company comes to SHOT Show every year, so they are guilty by association.
The question is, after Vista Outdoors and American Outdoor brands are boycotted, will there be enough products on REI's shelves to keep them in business?
I hope not.
But on to the bigger picture.
This idea, boycotting the non gun and ammo brands made by companies that are subsidiaries of the same holding companies that own guns (that's how that works) is gaining traction online.
When You Buy These Bike Brands, You're Supporting the Gun Lobby
If you bought a cute little Copilot trailer to ferry your kid around town with your bike, we've got some bad news: Your purchase supported the gun industry.
Same goes if you paid for a Bell or Giro brand bike helmet, or a Razkulls child helmet or Camelbak water bottle. All of those bike brands are properties of Vista Outdoor, which is also the largest ammunition manufacturer in America and the maker of the MSR15, an AR15-style assault rifle.
The company is very politically active in the gun lobby, with strong ties to the NRA and its lesser-known but powerful industry cousin, the NSSF.
Even the Sierra Club is in on this.
If this is the direction that these people want to go, I encourage them.
I just want them to understand exactly what they are getting themselves into.
American Outdoor Brands owns Smith & Wesson.  Smith & Wesson made the rifle used in the Parkland shooting.
Smith & Wesson owns SW Precision Components.  A 60 ton forge necessary to forge out AR uppers and lowers or 1911 frames is expensive.  You want to get the most used out of your equipment as possible.  So you run it 24/7.  If you don't have the capacity to get all the use out of it yourself, you work as a subcontractor for other companies.
Same for heat treating furnaces, carburizing furnaces, plating equipment, plastic injection molding, etc.
You make things like: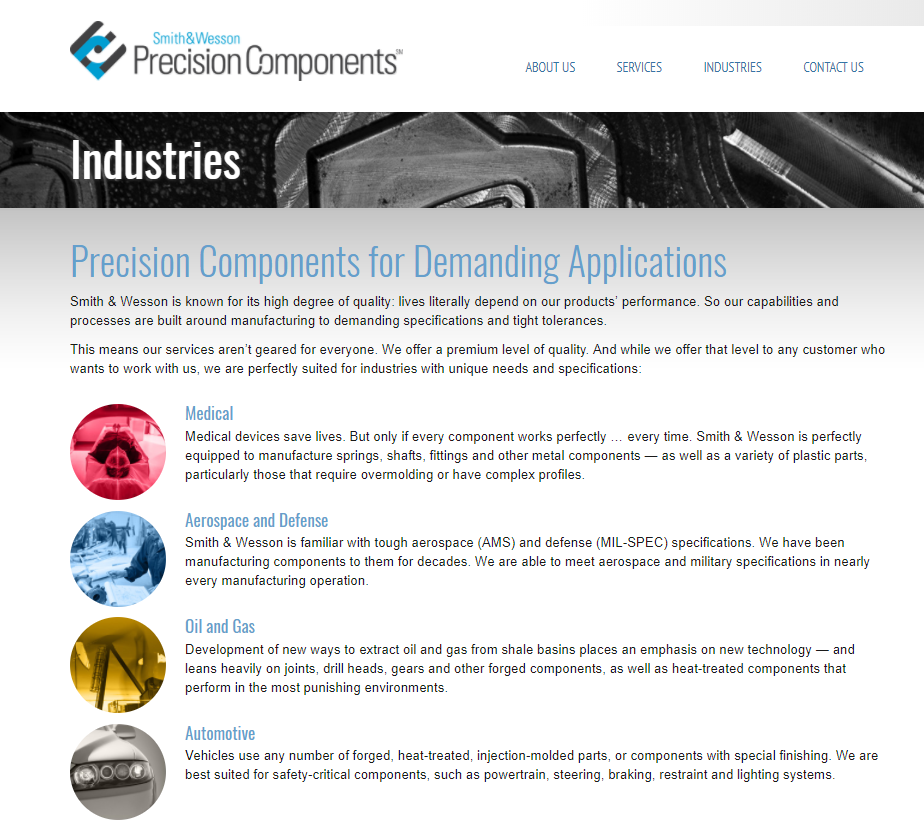 Medical devices, automotive components, equipment for the oil and gas industry, etc.
Ruger owns Pine Tree Casting in New Hampshire.
Over the years Pine Tree has provided
investment castings for industries
including architectural hardware, sporting
goods, hand and power tools, marine
hardware, computer networks, food
service, medical and firearms. 
If you buy anything with metal injection molded (MIM) components, you support the gun industry and technology driven by Remington.
So…
Dear virtue signaling liberals,
Before you buy any processed food, medical devices, bicycle parts, car parts, cars, gasoline, or anything else that is forged, investment cast, injection molded, MIM, plated, heat treated, or has parts that were, you better check to make sure that they weren't processed by SWPC or Pine Tree Casting, or you are supporting the gun lobby.
You had best just sit in the dark and starve, that is the only way to be sure.