Daniel Defense posted on Facebook their support for the Fix NICS Act.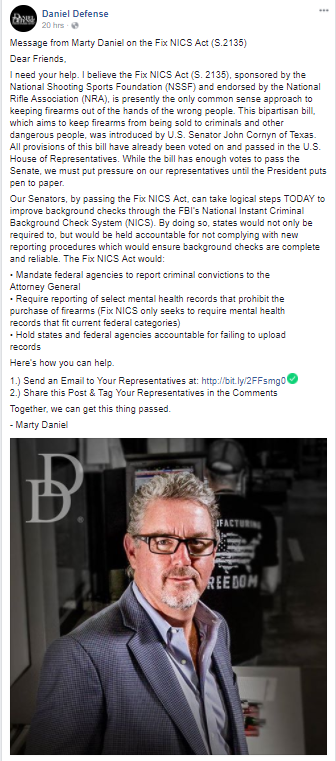 Dear Friends,
I need your help. I believe the Fix NICS Act (S. 2135), sponsored by the National Shooting Sports Foundation (NSSF) and endorsed by the National Rifle Association (NRA), is presently the only common sense approach to keeping firearms out of the hands of the wrong people. This bipartisan bill, which aims to keep firearms from being sold to criminals and other dangerous people, was introduced by U.S. Senator John Cornyn of Texas. All provisions of this bill have already been voted on and passed in the U.S. House of Representatives. While the bill has enough votes to pass the Senate, we must put pressure on our representatives until the President puts pen to paper.
Our Senators, by passing the Fix NICS Act, can take logical steps TODAY to improve background checks through the FBI's National Instant Criminal Background Check System (NICS). By doing so, states would not only be required to, but would be held accountable for not complying with new reporting procedures which would ensure background checks are complete and reliable. The Fix NICS Act would:
• Mandate federal agencies to report criminal convictions to the 
Attorney General
• Require reporting of select mental health records that prohibit the 
purchase of firearms (Fix NICS only seeks to require mental health 
records that fit current federal categories)
• Hold states and federal agencies accountable for failing to upload 
records
The Fix NICS Act is supported by the NRA and NSSF.  The purpose of it is very clear, to make it mandatory for goverment agencies to report prohibited persons to NCIS.
There are three mass shootings in recent history that the shooters bought guns because they were not reported to NCIS.
Devin Patrick Kelley, the Southerland Springs church shooter, was court martialed out of the Air Force for domestic violence but the Air Force never reported it.
Jared Lee Loughner, the Tuscon shooter, should have been prohibited but it wasn't reported to NCIS.
Same with Seung-Hui Cho, the Virginia Tech shooter.
Fix NICS is the ONLY bill I've seen so far that actually might prevent another shooting and does not punish law abiding citizens.
Unfortunately, some really extreme gun owners decided that Daniel Defense's support of the NRA/NSSF backed bill was tantamount to S&W deal with the Clinton Administration.
@DanielDefense I was very disappointed 2 learn that DD supports the Fix NICS legislation. While I respect ur right 2 support whatever u want, I find it troubling u would support this anti 2A crap. Sadly I will look for another brand when purchasing my next AR. @RepThomasMassie

— Big Daddy (@coolaidfree46) March 10, 2018
@DanielDefense what rights are you guys gonna try to take away from law abiding citizens today? #turncoats

— Spencer Howe (@MercedesSpenz18) March 10, 2018
So what's it like knowing you killed yours business with a single post 😂 I will never by a DD product again. You and those traitors called the @NRAILA have dug your own grave. To everyone else go join @GunOwners they won't compromise or back down.

— GunDoctorT.V. (@Gundoctor_tv) March 10, 2018
When you call the NRA-ILA traitors, you have gone off the deep end.
We as gun owners could back a bill that will actually work and not be a gun ban, and get some good press (as limited as that may be) for actually taking a stand for supporting keeping guns out of the hands of bad people.  But when you take a position like that, it only makes gun owners look worse.
Honestly, I've been thinking about proposed gun control laws and there are some wide areas in the law that I believe need to be addressed.
Readers of this blog should by now know that I am a supporter of gun rights and civil liberties.  I can't believe that I feel like I have to say that, but I do.
Part of the problem with the Parkland shooting was that despite everything that we learned about Cruz, nothing he did made him a prohibited person.
Then there is the issue with military veterans and suicide.
I think there is huge problem with the fact that people are either prohibited persons, which is effectively permanent, or not.
I want a national temporary restraining order system for gun ownership.  Yes, I know that sounds like what California did, and I agree, the California system is easily abused.  But I have come to believe that a temporary ban on gun ownership is a good idea as long as a persons civil rights were protected.
First of all, any temporary ban must come through a hearing.  The person should have the right to defend themselves before a judge, with counsel.
The temporary ban should have a built in expiration date.  If the petitioner doesn't repetition, it automatically defaults back to the person having their full rights.  Also, there would have to be a limit on the length and number of repetitions allowed.  This needs to be in line with the legal concept of Habeas Corpus.
I don't like the idea that a single civilian can petition a judge.  I see that as way for angry ex-wives and pissed off college kids to get revenge.  It needs to come from a law enforcement agency or licensed mental health professional.
Guns taken by law enforcement must be returned at the end of the temporary ban.  If they are not, compensation is required to be performed by the agency.  No "oops, your nice Wilson Combat grew legs and walked out of the storage locker into the Chief's house, you're screwed now."
There are two reasons I think this is a good idea:
One:  Parkland.  Imagine a person gets the police called on them several (45) times over the course of a few months.  Minor things like screaming fights with the neighbors and kicking dogs.  None of them is enough to make that person prohibited, but taken together, it is evidence that there is an escalating violent streak.
The police could petition a judge and say"
"We've been to this guy's house to break up fights and deal with threats a dozen times.  He's causing a lot of problems in the neighborhood, but hasn't hurt anybody yet.  Can we take his guns, investigate him, and have him sent to a mental health facility for evaluation?  Give us a 60 day restraining order."
If the investigation leads nowhere, the guy gets his rights back in 60 days.  Maybe he needs court ordered anger management.  He can have his gun rights suspended for the length of the treatment then get his rights back.
Two: Veteran suicides.  PTSD is troubling, but it is curable.  I don't want to take away a veteran's rights.  I also don't want a veteran to kill himself either.  Allow a mental health professional to petition to suspend this person's gun rights for the time he is bottoming out emotionally.  Once he is better, his rights are automatically restored.
The problem right now is a person is either fully legal or permanently prohibited.  That makes it tough to prevent a shooting or a suicide as the bar to becoming a prohibited person is high (for a reason, which is good) or some mental illnesses are curable and the person shouldn't lose their rights forever for a temporary crisis.
A prohibited person can have their rights restored but the onus is on them.
A temporary system, that has a lower bar for restriction on gun ownership, but automatically restores rights would fill that gap.
Yes, I understand such a bill would have to be written VERY carefully and VERY specifically.  At every turn it would need to default back to full civil liberties to prevent it from becoming a short cut to prohibition.  Yes, I know the Left with try to add a bunch of bullshit to it.
I think this would be very useful to fill the gap in the law right now and might actually help prevent further mass shootings.