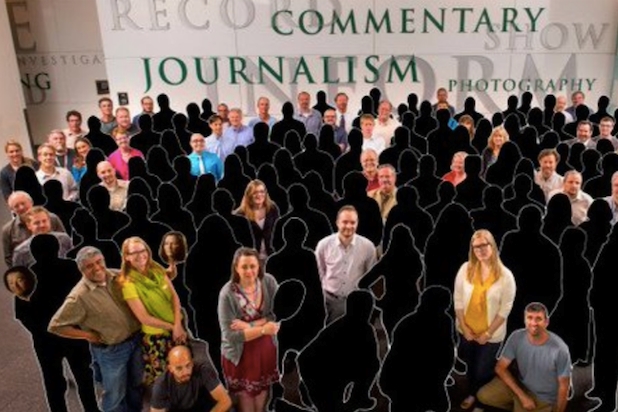 At The Denver Post on Monday, more than two dozen reporters, editors, photographers, videographers, page designers, digital producers and opinion staff will walk out the door. Our marching orders are to cut a full 30 by the start of July.
These heartbreaking instructions raise the question: Does this cut, which follows so many in recent years that our ranks have shriveled from more than 250 to fewer than 100 today, represent the beginning of the end for the Voice of the Rocky Mountain Empire?
Editorial: As vultures circle, The Denver Post must be saved
What's happening to the Denver Post is not unique. Many old newspapers and printed media in general are suffering from a slump that is forcing their owners to make cuts in order to remain up and running and maybe even profitable.
I apologize for using the word "profit." I understand that for many people in the News business, profit is a bad word that can never be said in front of polite intellectual company. To demand that a newspaper make a profit is like demanding to sacrifice virgins to satisfy some absurd god: it is stupid and immoral according to editors.
But the same editors steered the paper into the dire straits they are facing now.  The newspaper would not need to be going through these pains if they actually did something they are supposed to do since they opened their doors: Sell newspapers.
A flagship local newspaper like The Post plays a critically important role in its city and state: It provides a public record of the good and the bad, serves as a watchdog against public and private corruption, offers a free marketplace of ideas and stands as a lighthouse reflective and protective of — and accountable to — a community's values and goals. A news organization like ours ought to be seen, especially by our owner, as a necessary public institution vital to the very maintenance of our grand democratic experiment.
These words would have had been effective say 10 years ago. Even today to us, old school readers, they manage to give the smallest of tugs in our hearts because we remember when newspapers were something you respected. But that respect went away when you chose sides and I don't mean that the paper leaned one way or the other politically, that is to be expected, but when the majority of newspapers in the nation became propaganda rags and damage control tools for one party. You refused the vet candidates while digging for all kinds of nasty crap on their opponents. You sofballed the politicians on your side while asking their opposition if they stopped beating their wives. You constantly lied about subjects even though the data was present and logically impossible to refute because that is what the politicians of your side demanded to be published. You basically polluted that marketplace of ideas with your obvious bias and were not even smart enough to charge for it.
So when you insult your customers day in and day out, they do something strange: they abandon you. Your income tanks and you become a weak institution, prime target for somebody who wants to buy it cheap.
This in a market filled with hyper-educated citizens ready and able to afford great journalism should it be offered them.
That is funny as shit. You cannot produce a good-quality product but somehow you feel you are that product and are sure that if some rich Mexican Cell Phone entrepreneur comes along, you will be able to deliver that product to those hyper-educated citizens that already abandoned you because you simply suck.
The only advantage newspapers have over other media is that they are the ones that can do in-depth investigations and present it over a period of time. Their is not to rush for the 20 second spot over the air nor the quick headlines of a web feed. That niche alone should be enough to provide you with a nice income, enough to break even and keep people in the payroll.
But when people have grown to distrust that "investigation" because of the obvious lies and general misinformation they read in your pages, then you have cut your own throat and there is no way to save your sorry ass.
It is not that newspapers should disappear, in fact they should be brought back. What needs to disappear is the propaganda corps that runs newspapers across the nation and they better do it soon as the only reason many people still buy the newspapers is because of the coupons that come with it and not for the information.