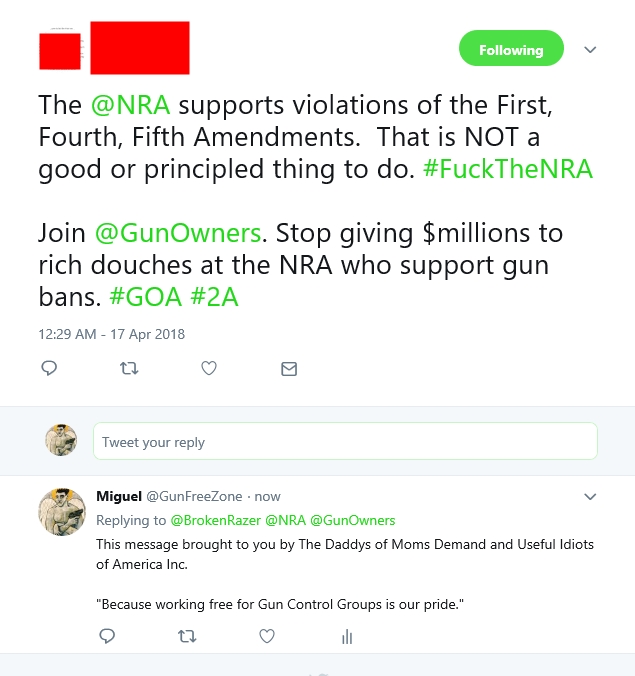 This is one of us, allegedly.  It seems that there are Gun Owners that still have not figured out the lever of shit storm we are facing right now. In fact, they do deeply believe that their "purity" dogma is actually useful, and it is to the Opposition.
This same individual had asked me earlier about how to get the NRA fighting to get rid of the NFA and the Hughes Amendments.  Let me state the case right now about that: At this moment in time, I could not give two shits about all the machine guns in the US, OK? You are fretting over less than 200, 000 already registered firearms when we have Gun Control and the Liberals going after 16 million AR 15s and if given a chance every singe semi automatic gun in the country.
Why in the name of God's green planet should the NRA or any pro gun organization should spend limited resources wasting time on shit that every rational gun owner knows will not be resolved anytime soon and less in this political weather? I tell you why? M-O-N-E-Y. I know the author is bitching about money, but he wants money to be sent to his favorite "No Compromise" entity. It does not matter that they have not been effective in getting one piece of Pro Gun Legislation passed nor any effective court cases decided or even have a basic infrastructure available to present a serious fight against Gun Control. Money should go and line the pockets of big talkers because … no idea.
So please and while we are trying to survive this brutal attack from our enemies: Shut the Fuck Up. Stop Helping Bloomberg and the rest of the assholes. You are 100% the reason why politicians think Gun Owners are no longer a threat to their careers and have passed anti-gun legislation lately.: They think us split, divided and infighting, while the Gun Control forces appear bigger than they are and presenting one common front.
Stop being collaborationists. Even the fucking Communists Cells of the French Resistance waited till Paris was liberated to return to its asshole ways.  Got it?
Thanks.
PS: Dear Chest Thumper, you were one among a selected group. You should be proud of the hashtag you selected.