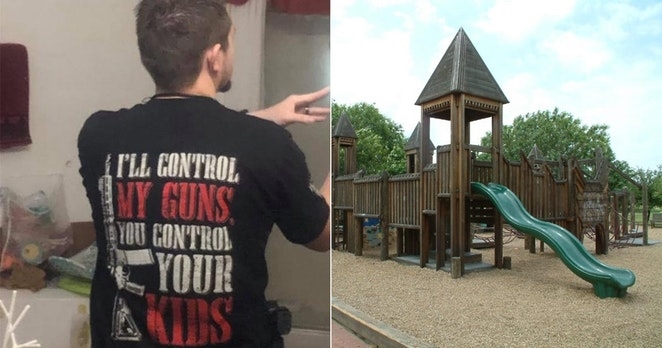 Benbrook, TX – A Texas father's afternoon visit to a local park prompted a police response, after a woman alleged that the man's pro-gun Warrior 12 shirt was making other parents uncomfortable, police said.
Troy Johnston and his two daughters, ages four and six, stopped at Castle Park on March 30, so the children could enjoy the park's swings and maze, he told Blue Lives Matter.

Johnston said he was openly carrying his handgun in a holster on his hip, and was also sporting a Warrior 12 shirt emblazoned with the words, "I'LL CONTROL MY GUNS, YOU CONTROL YOUR KIDS" across the back.
The shirt also featured an image of an AR-15 rifle.
Woman Calls Police Over Man Wearing Pro-Gun T-Shirt At Park
Not unusual, right? Specially in this weather of hate and intolerance from the Left that we are having.  But it gets better.
According Benbrook Police Department (BPD) Corporal J. Reese, a woman contacted the department at approximately 3:21 p.m., and reported a "suspicious person" with a "gun holstered to his chest," was wearing a shirt that read "You control your kids, I'll control my guns."
Cpl. Reese arrived at the scene, where he made contact with the woman.
She claimed that Johnston "was making other parents on the playground very uncomfortable with his t-shirt," the corporal wrote in his report of the incident. "The subject did not act threatening to anyone, nor did he threaten anyone."
The woman told police she was not worried about the gun – which officers noted was located on Johnston's hip, consistent with the information he provided to Blue Lives Matter.
And there you have it, folks. This much stupid does not grow in the wild, but it is organically grown in mental hydroponic – non GMO  farms somewhere in LeftyLand.