I saw Miguel's post A lot of people are echoing the sentiment.
I went all the way back to the source of this on Twitter.
I screen grabbed a little back and forth that I felt was appropriate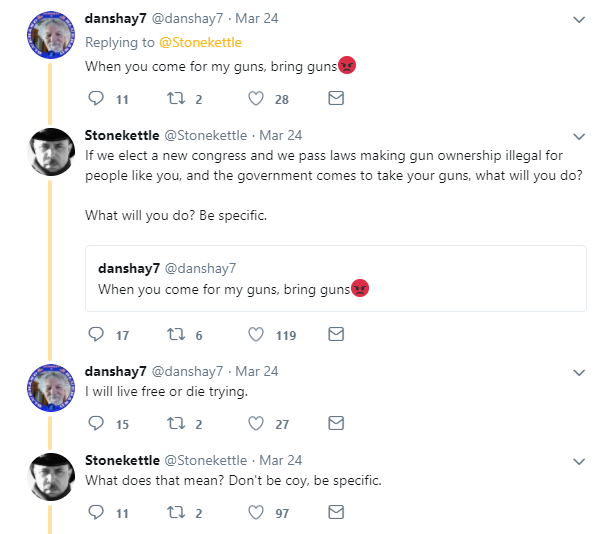 I'm not going to be coy.
I am going to be honest, by way of a rambling anecdote.
I don't get along at all with my fellow Jews on the topic of politics.
I was at a Seder a few weeks ago at the Conservative synagogue in town.  The high holidays brings out people who are not regular attendees so events like this give an opportunity to meet new people.
I'm talking to some of the other people at my table and they ask what I do.
"Oh I'm an engineer"
"Where?"
"[Company in the defense industry]."
And a hush falls over the the table.  Jews don't do that in America.  We don't work with guns and grenades and stuff like that.
"What do you like to do for fun?
"I shoot.  IDPA and USPSA mostly."
Silence.  Jews don't do the gun thing.  This is not the first time something like this happened to me.  It was worse in Illinois.  At least in Alabama it is understood there is a gun culture.  Jews plus Chicago means no tolerance for guns at all.
The topic of politics comes up and I am the lone Conservative.  Why?
My answer is simple.  History has shown us they big government is bad for Jews.  You name a time and place in history, the Greek Empire, the Roman Empire, the Monarchies of Europe, German Nazism, Communism, wherever there is big government, there is oppression of the Jews.
Even in the USA, Franklin Delano Roosevelt, the grandpappy of American progressive big goverment murdered Jews when he had the St. Louis turned away from American port and sent back to Germany.  Yes, Democrats own that.  Put that polio crippled dick in your mouth and suck it supporters of FDR.
So I am an advocate of small government.
Then of course since I poked the Holocaust topic by bringing up Nazism and FDR, I ask the question.
"I agree, Never Again.  You agree, Never again.  Never Again.  So what are you going to do about it?"
That's when shit goes south.  I get a lot of namby pamby answers.
"Alright, so it's 2039.  Enough Social Justice Warriors get elected and stack the Supreme Court.  The decide that the 14th Amendment doesn't apply to the Jews because… Israel.  Now American Jews have to be exterminated for justice for Palestine.  The concentration camps are being fenced in, the gas chambers are being built, and college kids are tweeting selfies of themselves standing next to containers of hydrogen cyanide with the hashtags #DeathToTheJews and #JustiveForPalestine.  What the fuck do you do."
Crickets.  They figured that they could write compelling Facebook posts or vote for their Congressman or maybe write a letter to the editor of the local news paper and stop it.  We're past that now.
This is where guns come in.  This is where I start to quote Solzhenitsyn.
"And how we burned in the camps later, thinking: What would things have been like if every Security operative, when he went out at night to make an arrest, had been uncertain whether he would return alive and had to say good-bye to his family? Or if, during periods of mass arrests, as for example in Leningrad, when they arrested a quarter of the entire city, people had not simply sat there in their lairs, paling with terror at every bang of the downstairs door and at every step on the staircase, but had understood they had nothing left to lose and had boldly set up in the downstairs hall an ambush of half a dozen people with axes, hammers, pokers, or whatever else was at hand?… The Organs would very quickly have suffered a shortage of officers and transport and, notwithstanding all of Stalin's thirst, the cursed machine would have ground to a halt! If…if…We didn't love freedom enough. And even more – we had no awareness of the real situation…. We purely and simply deserved everything that happened afterward."
I am an angry, vengeful, mean fucking person.  The only way to stop your people from being put into mass graves is to put the people who are trying to put you into mass graves in mass graves.
It doesn't sound noble but it is the undeniable lesson of history.
Look at Rwanda.  The Canadian peacekeepers tried to be all polite and stick to the UN rules of engagement.  What happened?  Canadian peace keepers stood around with their thumbs up their asses and watched as Hutus wielding  machetes butchered Tutsis.
If your goal is to save innocent Tutsis, when the mob of Hutus with machetes shows up yelling "cockroaches" you open up on them with something big bore and belt fed like the climax of Rambo 4.
BTW, Rambo 4 is the greatest morality play ever put on film.  A bunch of liberal, pacifists armed with nothing but the best of intentions get raped, tortured, and murdered by evil people with impunity until an American starts killing the evil people with one of John Moses Browning's inventions.
The next argument I hear is "you can't expect Jews to have stood up against German soldiers going into their homes with machine guns."
First of all, I do.
Second, that is the last step.  Why is that these people always seem to thing that the first people targeted should be the 19 year old fresh out of boot camp?
The first people on the to kill list should be every member of the SS who met at a chateau in Wannsee who came up with the final solution.  Kill the guy following orders if you have to, but your priority should be killing the guy giving the orders and his supporters.
Then I hear the typical "isn't that stooping to their level?"
This isn't a fucking chess game.  If the situation is 'I lose and my kids go into a gas chamber' than it is a no holds barred fight.  If my kids don't get to sleep soundly in their beds, neither do theirs.
So how does that translate to the gun rights issue?
I've seen a lot of opinions online since Parkland that echo the sentient "if you want us to take them from your cold dead hands, we will."
The "we" of course is not the activists saying that.  They want to elect people and pass laws that send the police out to make gun owners' hands cold and dead.
The way I see it, the people saying "if you want us to take them from your cold dead hands, we will," be they celebrity activists, land-whale social justice college professors, or anybody in between, might as well be tweeting from a chateau in Wannsee.  They are the ones planning the final solution to the gun control question.
I've said it before and I'll say it again.  I have studied history, and I know it repeats itself.
Next time around, if the shit hits the fan and there are going to be mass graves, I fully intent to be filling them, not lying in one.