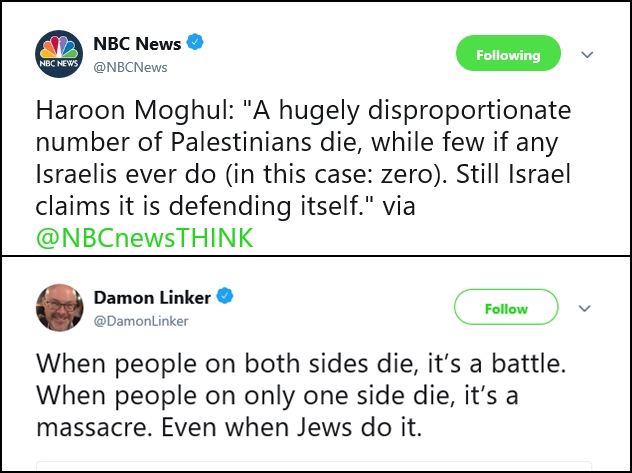 For the Left, if there is a battle and only one side takes casualties, then it was not fair. Somebody was cheating. Fair means both sides have people die, then and only then it is considered "valid."
Possibly the dumbest/dangerous concept ever uttered by Liberals.
The problem is that the same principle is taken outside the battlefield and into civilian life: you cannot exercise your right to defend yourself until you have been injured in a life-threatening manner.
Don't laugh, this is a very much alive legal doctrine in other countries. If somebody attacks you and you respond, you are obligated to wait and see if the other party continues the attack or decides to stop.  If the Bad guy shoots you and you shoot back, you can only use one bullet and must stop shooting to see what is the reaction from the other side of the conflict. If he withdraws, great. If he returns fire, then you can shoot one bullet again provided that he was a bad shot and you are not on the floor dying from the second gun shot wound.
I have spoken of this case before in the blog: A lawyer friend of mine from Venezuela called about a case she was handling as defense lawyer. A home owner heard somebody breaking in his house late at night, got his legally registered handgun and found an equally armed individual roaming the house. Shots were exchanged and bad guy died. The homeowner was charged with murder, why? He performed what we know as a Mozambique drill on the home invader and the judge investigating the case (Judges, not attorneys investigate cases down there) determined that shooting three times was "ensañamiento" (cruelty) and thus self-defense did not apply.
My friend explained to me that she think she could successfully argue to the judge that the second shot was just nerves and stress that affected the homeowner's handling of the weapon, but she was trying to figure out how to explain the shot to the head within the jurisprudence parameters of the country. I sent her as much literature as I could, but at the end the case ended up pleaded down to Manslaughter with a sentence of 10 years and the man was released after serving 7 years.
I hope you understand the psychological effect that this has on normal people. First you have the fact that the last thing you want when your life is being threatened is to start thinking about the shit storm that will fall upon you when the event is over. second is that you wonder if just being a victim of crime is a better choice than defending yourself. You only get victimized once if you submit to a criminal, but you get a double dose of victimization if the government investigates your "act of violence" against the criminal you successfully defended yourself against.
I you think that does not transform people into willing victims, just look at England.
'Nuff said.