Yesterday, I did a post about executing drug dealers.  There were some comments.  I have discussed this issue online before, I have gotten many of the same comments.  They break down into three categories:
The problem is drugs are illegal, make them legal.  Why should the goverment regulate what kind of fun people have (this is the Libertarian answer).
Why not execute the drug users?
Be careful, this argument can be used to punish gun makers/retailers.
I think the first argument is wrong and stupid.  It's one of the reasons I'm not a Libertarian anymore.  Then I will get into why the other two are almost as bad.
First: Lets talk about fentanyl.
Anybody want to take a guess as to what the LD50 of fentanyl is?
For those of you who don't know what an LD50 is, it is the lethal dose in milligrams per kilogram of body mass, that kills half of the test subjects.  It is the median lethal dose per weight.
We're not sure what the LD50 is for humans, but for our closest biological relative (monkeys) it is 0.03 mg/kg.
To put that in perspective, for humans the LD50 for Sarin nerve gas injected into the body is 0.014 mg/kg.  Since these things are generally measured in orders of magnitude at that level, fentanyl is just about as poisonous as Sarin.
Remember, that fentanyl bust that could kill 26 million people was only 118 lbs.  Two bags of dog food worth of fentanyl had enough power to OD the whole state of Texas.
Here is a picture that really makes this click.  The image below is of a lethal dose of heroin and fentanyl for an average size man.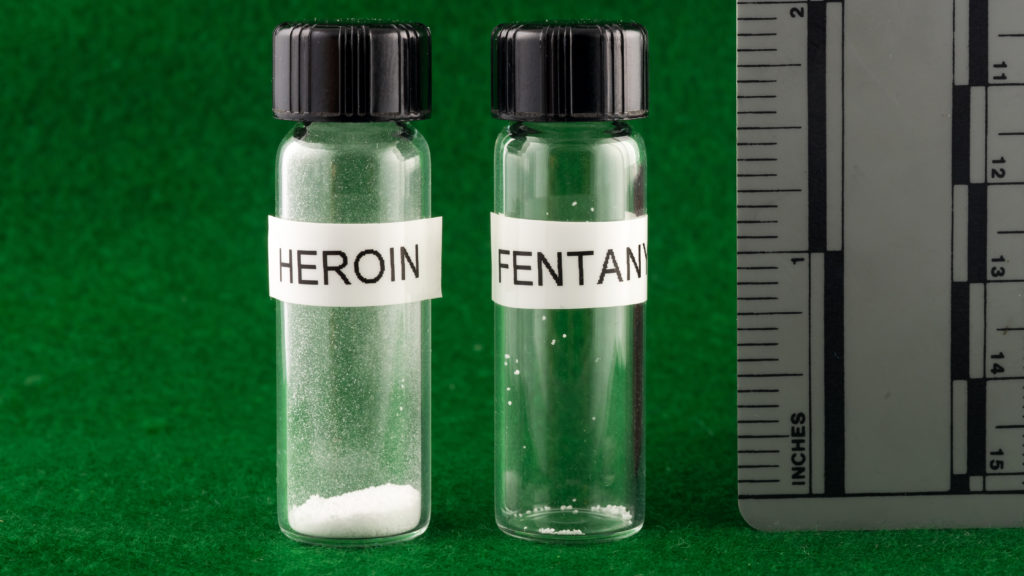 That's not much.
Compare that to America's favorite depressant, alcohol.
The BAC at which death is expected to occur for most people is 0.4-0.45%.
Using a standard BAC calculator, the maximum number of drinks I can put in is 20.  At 280 lbs, male, age 35, consuming 20 shots (1.5 oz) of Vodka (40% alcohol) in one hour, I'd have a BAC of 0.32%.
A standard bottle of hard alcohol is 750 ml which is 25 oz.  For an average person to die of alcohol poisoning, they'd have to chug a bottle of hard liquor.
I have been on fentanyl.  I like fentanyl, fentanyl is a friend of mine.  When you wake up from surgery or have a slipped disk compressing your spinal cord, fentanyl is a beautiful thing.
It was administered by an MD in anesthesiology, who spent 8 years learning how to dose me correctly so I don't die.  Fentanyl is not something that can be given out by a bartender recreationally.
Then there is the fact that opiates are far more addictive than substances like alcohol.
The fact is, a person can come home after work on a Friday, sit down with a beer or two and relax watching TV.  There is no such think as coming home after work and shooting up with some fentanyl and zonking out on the couch to relax.  The latter ends with that person becoming an addict in every self destructive way possible.
Furthermore, with alcohol, the lethal dose being so big, you can make yourself a double and still live.  If you make yourself a double on fentanyl, you die.  The difference between feeling no pain and death is measured in micrograms.
Then we come back to the son of Eric Bolling.  He died because he accidentally took a lethal dose of fentanyl.  The toxicity is so high, that you can take a lethal does and not know you are taking the drug at all – Bolling's son abused Xanex.
I was in college, I got drunk a few times.  That's normal.  What frightens me as a parent is something like fentanyl, which has zero room for error and you can take without knowing it.
If you want to equate drugs  with guns, than fentanyl is a thermonuclear weapon.  This is not a substance people should just be allowed to have.
I even have the same feeling about marijuana.
What we know is that marijuana causes brain damage in teens.    It is permanent.  We know that if mom and dad drink regularly, it is more likely that the kids will drink under age.  Same with recreational marijuana, and those kids are destroying their brains.  This is causing all sorts of problems in Colorado schools.
Being addicted to alcohol and tobacco is a problem.  Allowing substances that is 10 to 10 Million times worse is not a solution.
Maybe I am too paternalistic, but I have a real problem with highly addictive, highly dangerous substances being legal for consumption.  Especially around children.
Second:
Many people who become addicts to hard drugs are self medicating from emotional problems.
I am not an unsympathetic person.  Allowing someone with depression to get high on heroin or fentanyl to escape their problems is not sympathy.  Executing them is not a fix.
Libertarians like to point to Portugal's decriminalization of drugs as a fix.  That's not what fix the issue (which is again, more evidence why Libertarians are stupid).
Portugal realized throwing addicts in jail didn't fix their underlying addiction issues.  Portugal stopped putting addicts in prison, and instead worked to get them clean, trained for work, go them emotional support, and into a monitored halfway-house like program to turn them into productive people.  The result is that these people didn't feel the need to go back to heroin as self medication.
The opiate crisis in rural America is part of the loss of rural American jobs, the shift in the economy, the state of uncertainly about what it means to be an man in the modern world, etc.
It is an emotional issue.  It will be more difficult for us to do what what Portugal did because we have a much larger population in a much larger country, with a much less European economic system.  But similar measures are possible.
I'd rather get non violent drug users clean and working and in therapy than in prison to get worse.
This is also why I really want to execute drug dealers.  I have a moral problem with someone who takes advantage of emotionally broken people for money.
I may not want to kill Pawn shop owners, but I think the ones that open up down the street from casinos who pray upon the gambling addicts are real pieces of shit.
The guy with depression on heroin because he's too broke and broken to see a therapist doesn't need a bullet.  The guy who sells him the heroin so he never gets his life together does.
Third:
This is perhaps the dumbest comparison.  People commit crimes with guns, but the intention of the manufacturer and retailer is to sell to someone who is law abiding.  Who will never use that gun for harm.
The people who illegally make heroin or fentanyl, or steal it to sell it on the street know it will be used for bad purposes.
The only comparison would be a gun manufacturer setting up shop in Chicago for the explicit purpose of making guns for gang members and not selling to FFLs.
Just like the guns vs. lawn darts idiocy, the issue is intention.
The intention of licensed makers and retailers is for a legal but potentially dangerous products not to be abused and used safely for good.
When you make a product that you know is poison and will be abused, and you sell it to people who you know will harm themselves or others, you deserve no protection.
This is exactly what the PLCAA does.
Smith and Wesson is like Merck.  They make something lethal but intended for good when used by licensed individuals.  The people who steal their products and sell them illegally to criminals should be held responsible, not the manufacturers themselves.
In conclusion:
If your attitude is "let people knowingly sell something as lethal as Sarin to emotionally damaged people, so that the users can commit slow suicide while destroying their families and society in the process, because that's the kind of fun they want to have" is some serious bullshit.