You probably read the headline already: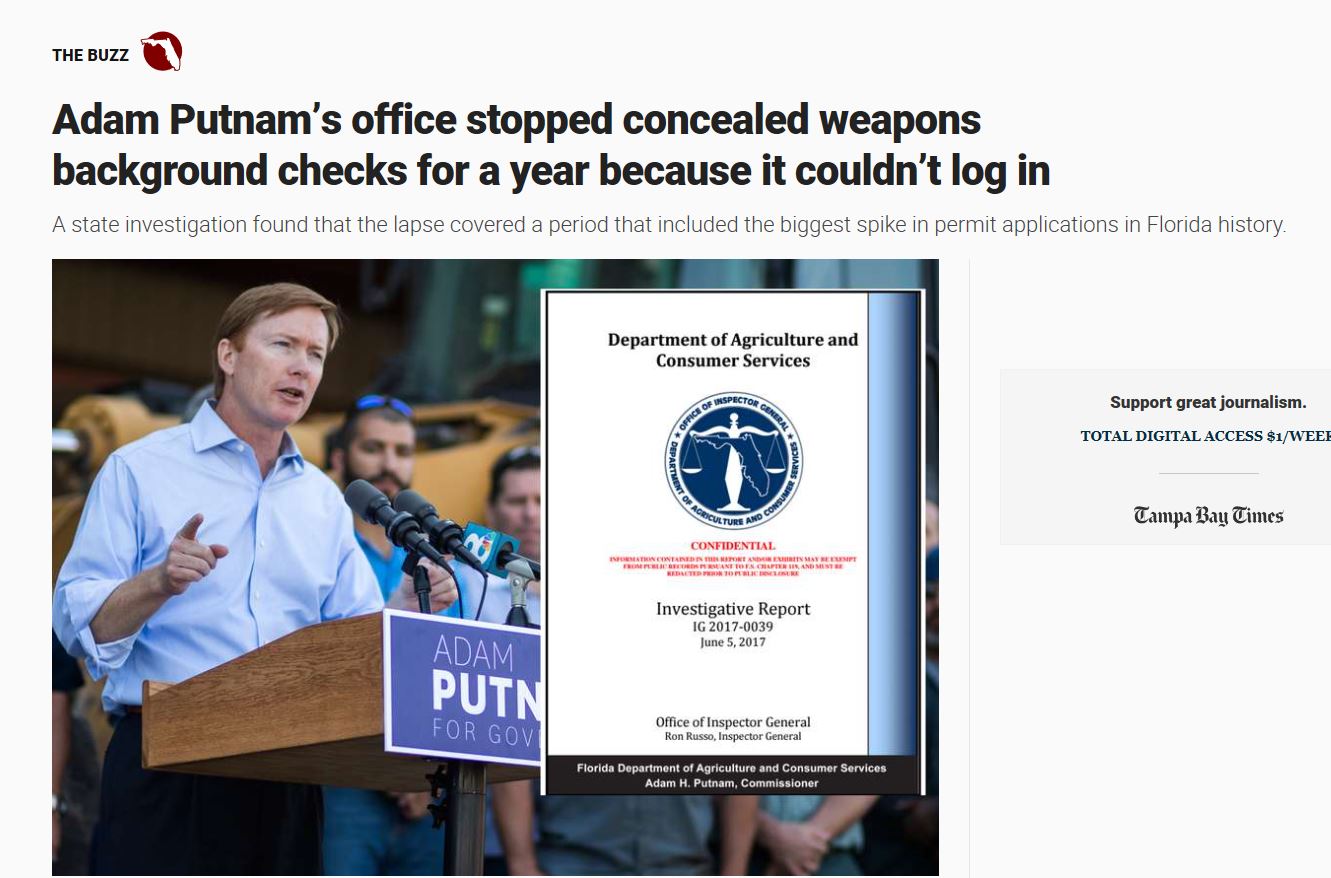 The screeches for Putnam to renounce are already loud and widespread. Of course it has to do more with him seeking the Governorship of the state than any actual fault that lies with him.
The Tampa Bay Times has the article and the link to the report of the Office of the Inspector General and as usual when it comes to guns (and other subjects) it is accurate but not necessarily the truth.  The slightly-less-than-obvious hint is that tens of thousands, probably hundreds of thousands of licenses were issued without any NICS background for a period of 11 months.

Here is the thing: The OIG report only mentions one individual,  Lisa Wilde, failing to upload  the applications to the NICS system. I do not pretend to know how the process goes exactly, but I am sure she is not the only one processing the background of people applying for Florida's CWP.
We are talking a total of 274,470 applications (268,000 approved plus 6,470 denied) processed in a space of 44 weeks or 1,766 hours. That comes to 152 background checks an hour or 2.5 checks every minute if my math is not out there.  2.5 checks every minute without any bathroom breaks or lunch or even stretching every so often to relieve cramped muscles. Call me cynic, but I doubt that just one person processed that many.
The OIG report never mentions numbers at al,l so all the numbers published are just speculations.  And there is still the issue of permits denied which you can be sure not all of the applications were rejected because they applicants forgot to write their address as the article desperate tries to hint away.
So yes, what Lisa Wilde did was incompetent and broke of the trust to the State and the People of Florida so she deserves to be punished for it. But until we have the precise number of  applications she dealt with, the Tampa Bay Times insinuating that 268,000 approved applications are all tainted by this person is just political bullshit.
And just a reminder: Never trust the news, go to the source and/or raw data if you can.