TALLAHASSEE
If it seems unusual for Florida's Department of Agriculture and Consumer Services to handle concealed weapons permits, that's because it is unusual — nearly every other state gives the job to police or courts.

But Florida's agriculture commissioner has the job because the National Rifle Association wants him to have the job.
In yet another testament to its power in Tallahassee, the NRA had lawmakers quietly move the Division of Licensing, which handles the concealed weapons permit program, from the Florida Department of State to the state's Department of Agriculture in 2002, so that the program was answerable to an elected official.
Why does Florida's agriculture department handle gun permits? The NRA wants it to.
And the BS attack on Florida's concealed weapons permit goes another round. We already covered the very insincere hatchet job by the Tampa Bay Timed when they alleged that over a quarter of a million CWP were issued without any Background Checks performed only to be found out later that it was only 365 denied application that went through background checks that were not uploaded to the division's database.
Now, this is where the article gets interesting. In trying to explain how fouled is our system now, the Miami Herald gives us all the great reasons why Shall Carry is the best way to issue carry permits:
Before 1987, cities and counties were able to set their own gun ordinances, and they varied wildly.
To get a permit to carry a concealed weapon in Broward County, for example, you had to pay a $500 fee, be interviewed by people ranging from a psychologist to county officials, and show that you had a dangerous job or had threats to your life and needed to carry a gun. Fewer than 40 people had permits.
You get that? $500 to apply for a Broward County carry permit and less than 40 wealthy individuals could afford to have one.  I went back to my trusty Inflation Calculator to give you an idea of how much it would cost you today.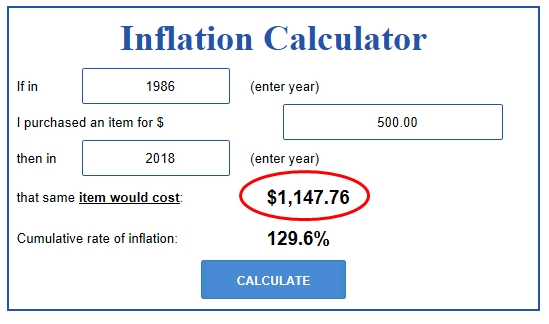 $1,147.76 to apply for a Concealed Weapons Permit? Are they nuts? This is the kind of games that breed government corruption like we have seen before in New York City in which police officers  in charge were given dinners, tickets to Broadway shows, clothes, watches and baseball memorabilia and cash payments to process gun permit to influential prohibited people. And let's add to the thinking equation that poor people, which include the minorities that Liberals love so much, cannot afford to part with such sum and get their CWP. Then again they probably think poor people with guns is icky and dangerous.  It was a Normal Joe with normal income and a concealed weapons permit that saved the life of Lee County Sheriff's Deputy Dean Bardes, but since Liberals also hates cop, it is actually a loss in their column.
But how horrible is that the Department of Agriculture is processing the CWPs? According to a mouthpiece for the Giffords:
That the Department of Agriculture, and not police, would be responsible for issuing the permits has been difficult for people to comprehend.
"When I first learned about this, it's one of my most mind-boggling things that I keep coming back to," said Robin Lloyd, director of government affairs for Giffords, a Washington, D.C.-based nonprofit that advocates for tougher gun laws. "It makes no sense whatsoever."
Background checks are performed by Florida Department of Law Enforcement. I don't know, but that is kind of the important part or at least is what all the faux debacle was just a few days ago.  It is the same people who perform the background check when you buy a gun at a store.
But wait! There is more! It is not only the Carry Permits they process at the Department of Licensing under the Agriculture Department,  but the Licenses for Detectives, Recovery agents and Security Officers. Allow me to remind you guys that Broward County school Board will be using Armed Security Officers to cover the security hole the left by rejecting taking participation in the School Marshall program.
Bravo Miami Herald and Lawrence Mower, you just made a compelling case of why Shall Issue Permits the way are being done now is the best way to go.