Earlier today, the New York Times broke a story that the State Department spent $52,701 on curtains for the residence of the US Ambassador to the UN, Nikki Haley.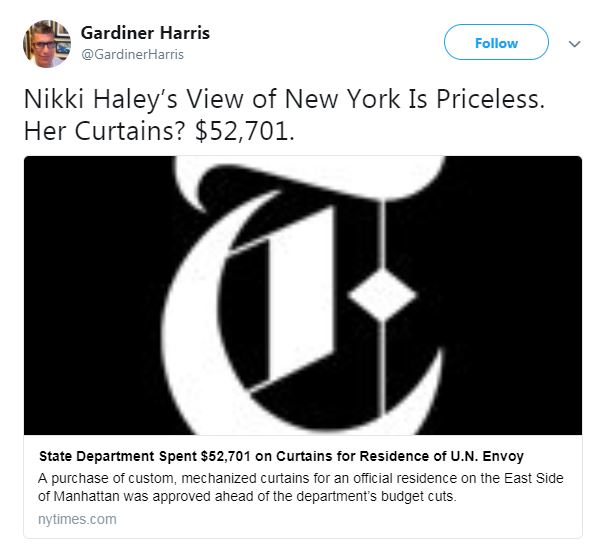 This was the perfect thing for the Democrat outrage machine to process.  They hate Trump, they hate Haley, why not scream about the government wasting money on people they hate.
Congressman Ted Lieu decided to score some #Resistance points with it.
This is not okay. As a Member of the House Foreign Affairs Committee, I call on @HouseForeign Chairman @RepEdRoyce to hold an oversight hearing on @StateDept spending on @nikkihaley and her deputy. https://t.co/c2ipX1s79d

— Ted Lieu (@tedlieu) September 14, 2018
David Hogg in his quest to never be right about anything called on Haley to step down over this.
The problem is, in the NYT own story, the NYT explains how the outrage is all false.
A spokesman for Ms. Haley said plans to buy the curtains were made in 2016, during the Obama administration. Ms. Haley had no say in the purchase, he said.
So the curtains were ordered under Obama and they aren't personalized for Haley.
So what about the $52,701 curtains.
This is my two cents on the subject.
Being around the defense industry, and having worked for ARDEC, DARPA, and a bunch of other defense technical development programs, there is of cool tech out there.
If you have ever watched the movie Clear and Present Danger, you may remember a scene where some goverment agents were listening in on some people with a laser pointed at the window.
That exists.  Laser long range listening devices are real, so are microwave listening devices.
I'm curious if the $52,701 curtains are more than just decorative but developed to block laser or microwave listening or are opaque to IR or provide some other security features against espionage.
They may also be blast or ballistic rated.
That seems like the kind of thing that the State Department might do for an ambassador's official residence.
I could be way off and these could be just super expensive curtains.
I just think it would be typical (Democrat) politics for some ignorant asswipe of a politician to grand stand over something like this just find out that he nearly spilled the beans on high tech counter intelligence curtains by being an partisan asshole.
I don't know, but my experience in the defense technology world makes my spider sense tingle on this.