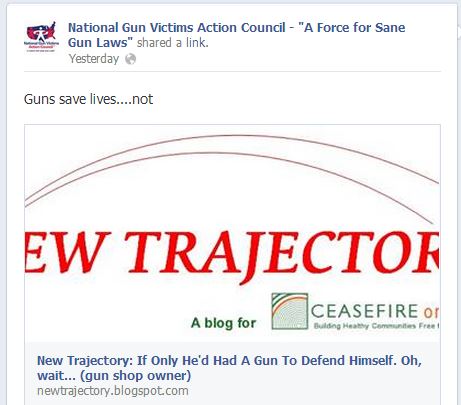 Elliot Fineman was co-gloating with Cease Fire Oregon on the shooting death of a Gun Shop owner.
Officials have charged a western Pennsylvania man in the shooting death of a longtime gun shop owner.

State police on Wednesday charged 43-year-old Jack Edmundson Jr. with homicide. They say Edmundson shot and killed 62-year-old Frank Petro inside Frank's Gun & Taxidermy Shop in Saltsburg on Tuesday.
via Gun Shop Owner Shot, Killed in Store | NBC 10 Philadelphia.
Of course, history has shown us that it is the other way around for most of the cases where criminals decide is a good idea to attack a gun shop like it happened recently.
COLLINGDALE — The owner of the Suburban Armory gun shop fired a shot at two juveniles after they walked in the store and announced a robbery Thursday afternoon, police said.

No injuries were reported.

Two juveniles, ages 15 and 17, are in police custody and will be charged as adults with multiple offenses, including robbery, possessing an instrument of crime, reckless endangerment and possession of a controlled substance, Police Chief Robert Adams said.
via Police: Collingdale gun shop owner foils attempted robbery by two teens.
If anything, this is the main difference between Us and the Opposition: We know that there is no 100% Safe Anything.   The Opposition guarantees that their policies will give us a world free of violence, free cable tv and cheap fat-free buttered pop-corn.
They are so sure of what they sell that they are wiling to risk our lives to prove it. Of course, I do not feel all warm and fuzzy by being the test subject of a well know policy failure with a wee bit too radical consequence also know and Death or Grave Bodily Harm.
If the Opposition wants to believe & live their own idea, I have no problem with that. But when they try to force us to live by their standards and pay the price, that is when I get a bit annoyed.  If you feel that playing Russian Roulette with a 1911 is cool, go ahead; the rest of us will play the better odds.