Sutter County Sheriff's Office
January 28 ·
A message from Sheriff Barnes:

The Sheriff's Office recently received a public records request regarding CCW applicant information. The attached letter was authored yesterday and is being mailed to our CCW holders. I am posting this on social media to be transparent and inform the public regarding this issue. If you are a CCW holder, you will be receiving a copy of this letter in the coming weeks.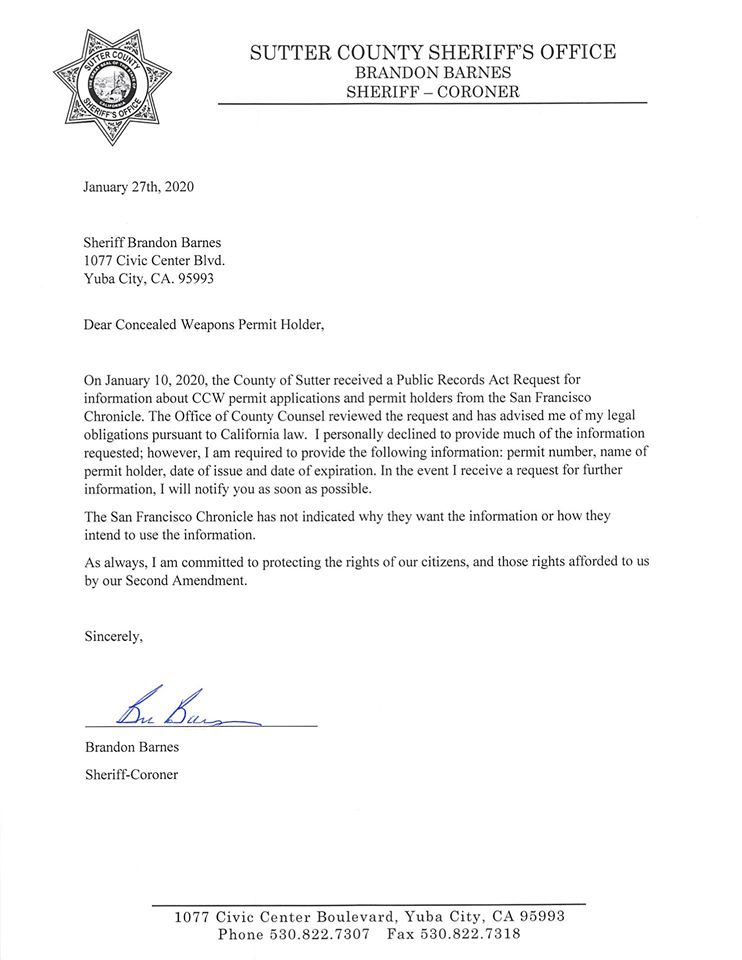 When the enemy is trying to Dox you, you Dox them right back. Publishing the names and addresses obtained from Public Records of the journalists trying put law-abiding people in danger to  is a tactic Gun Owners have used before with total success. The prospect of suddenly having people know where you live, specially in this day and age of Google Maps with Street View is a sobering thought and a great way for journalists to re-assess the need for the initial request.
So basically find out who is writing the story, who are his/her editors and get to find their info online. They do not care if a woman obtained a permit for a gun because a crazed ex is after her to kill her? Or some gang bangers now know where to go to get guns for "free"? Then we do not give a hoot about your address being legally publicized in the many blogs and social media accounts everywhere.
Fair is fair.