You were smart. You had saved cash, precious metals and important documents in a deposit box in a private company not affiliated with any bank or institution. The place is brimming with security and only you can access your box. Nobody can mess with your safety nest.
(Cue laugh track and sad trombone)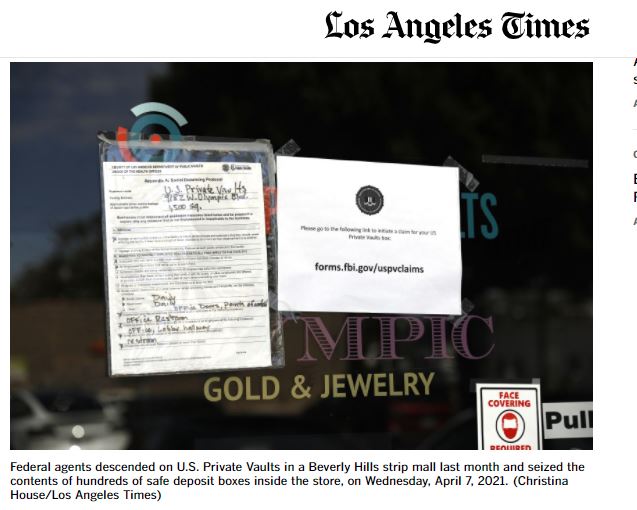 Armed with a warrant, agents with the FBI and Drug Enforcement Administration pulled each of the store's several hundred boxes out of the walls and seized all the contents. It took five days to inventory everything and take it to an undisclosed warehouse. Prosecutors said drugs, weapons and stacks of currency that drew the attention of drug-sniffing dogs were discovered.

To reclaim property, people must identify themselves to federal authorities and prove they are the rightful owners of the items — a bar that may prove challenging to clear when dealing with cash, gold, heirloom jewelry and other undocumented items.
After FBI seizure of safe deposit boxes in Beverly Hills, legal challenges mount
I can start a diatribe about forfeiture laws and the clear violation they are to our constitutional rights, but I would be preaching to the choir.  The same applies to the apparently untamed corruption that now drowns the FBI and makes J. Edgar Hoover look like a virginal saint.
At the end, the sad conclusion is simple: If they want it, they will take it. It can be your car, your money or your life and fuck you very much for playing The American Dream game.  Sorry, we do not have parting gifts to offer you, we kept those too.