Excited to be here at Netroots Nation talking with progressives like Sen. Cory Booker about our shared commitment to freedom, justice, and equality for all people. #NN18 pic.twitter.com/ljswLmv32w

— Palestinian Rights (@US_Campaign) August 3, 2018
The wall that Cory Booker says must come down is the Israel West Bank Barrier.  The Left loves to refer to that as the "Apartheid Wall."
The wall is credited with the near elimination of bus bombings and suicide bombings in Israel.  Palestinians trying to cross the border into Israel have to come through checkpoints in the wall where they are searched and bombs are found.
Before the wall, Israelis lived in fear that every time they went onto public transportation or they put their children on a school bus, some Palestinian with a  bomb would blow it up.
If Israel were to take down the West Bank Barrier, it would open up Israel to a wave up unprecedented terror.  Which is exactly why pro-Palestinian groups want it taken down.
I see that picture and this is what it looks like to me: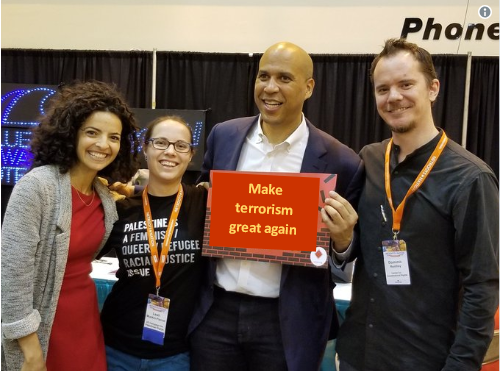 I wonder if that is the new DNC official position.