How politically expensive did it get for the Michael Bloomberg's Golden Boy to be forced to reverse position?
RICHMOND — Gov. Terry McAuliffe plans to announce Friday that Virginia will restore handgun reciprocity agreements with nearly all states, in a stunning reversal of firearms policy that angered Republicans and gun rights advocates across the nation.

The about-face is part of a deal that McAuliffe (D) struck with Republican leaders one month after Attorney General Mark R. Herring (D) severed the right for gun owners in 25 states to have their concealed carry permits recognized in Virginia.

In exchange, Republicans will agree to some concessions, according to McAuliffe's office and the office of House Speaker William J. Howell (R-Stafford).

McAuliffe to restore handgun reciprocity in deal with Republicans
So far, the only group having kittens are our friends in CSGV. I think Moms, Everytown and Brady are in shock.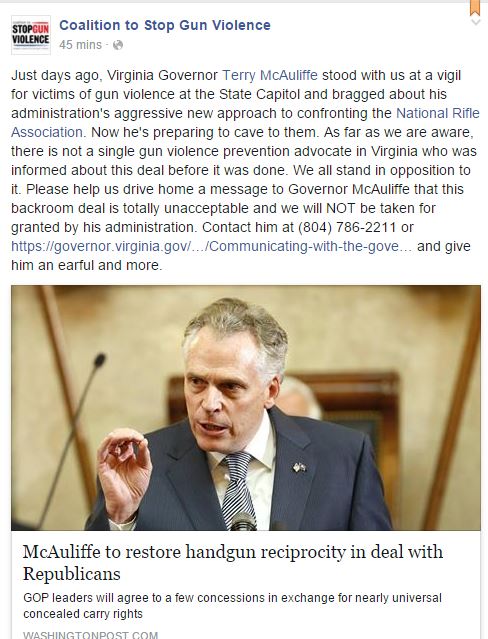 I don't wanna read the comments yet. That will be a whole 'nother post on its own.
McAuliffe gets three concessions:
If an individual's Virginia concealed-carry permit is revoked, a permit from another state will not be honored in Virginia — a practice known as "state shopping."
State police must be present at all gun shows to administer background checks in private sales of guns on a voluntary basis.
Anyone subject to a permanent protective order for a domestic violence offence will be prohibited from carrying a firearm for the two-year life of the order.
I really don't see much of a loss but I don't live in Virginia. How low is the bar so they can revoke your permit? As for the castrated Universal Background Check at gun shows, I have no problem either. The last one? I thought that is pretty much standard everywhere, but if not, do let us know.
"An honest politician is one who, when he is bought, will stay bought."
Simon Cameron.