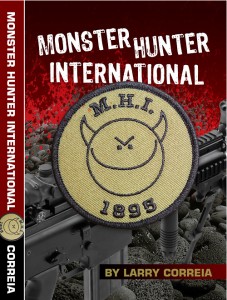 I am one of those guys who goes to sleep watching horror movies and uses horror books as coasters which makes living with a wife who adores the genre somewhat challenging so I kinda surprised my wife when the book arrived at our abode and I told her it was about monsters and guns. She got her hands on it after I read it (I devour books while she savors them slowly) and she loved it. And as you may guess, I loved it too.
MHI tells the story of Owen Zastava Pitt, a man that tried to run away from his destiny but destiny ran over him and mauled his body with the furor of a full moon. For those who love monster stories, this book has plenty of creatures, some I never heard of before in my life and I was forced to google them. If you like guns, you will enjoy the literary gun porno that Larry Correia describes in detail. If you like both, well friend you will be in hog heaven. The story is fast paced, entertaining, funny and packed with action. As today, I have read the book 5 times, in fact I finished my fifth go-around last night and it does not loose its flavor.
Gun people are very picky about the usage of guns be in movies or books. We want accuracy in its portrayal, smartness in the tactics and no B.S. of any kind. Larry manages to imbue that by a strict description of the firearms used in the book, but somehow he easily get us to suspend disbelief and we buy Master Vampires, Orcs, Werewolves and Wendigos. Did I forget to mention it is his first book? Yep and I can't wait for MHI2 to come out.
Now the good/bad news. The cover you see in the picture is from what I call Edition Zero. Larry self-published his book after being rejected by everybody but the taco vendor in the corner. He himself admits he was not ready for the acceptance and the books went out as fast as the printer could have them ready. The good news is that MHI was picked up by Baen and it is due sometime next year if I remember correctly. The bad news are that MHI: Edition Zero is gone. There is somebody selling an used copy in Amazon.com for $199 and I could not find copies in either Ebay or Powells. So if you want your copy, you must wait for Baen to publish it.
Larry Correia is the owner of FBMG, a gun store in Utah that would make any human being shriek in glee plus he is a firearms instructor and contributor to SWAT magazine.
By the way, Larry had a great sales strategy: He offered the patch you see in the cover during the distribution of Edition Zero. In a rare moment of insight, I managed to secure two so the wife would not complain. I have not seen hers ever again, something about not trusting me to keep my paws away from it (Damn it, she kinda knows me after 22 years) and I keep mine also in a safe place, unable to decide if it will ever be attached to some garment.