Watch this clip Tweeted out by New York City mayor, Bill de Blasio.
There's enough money in this country to pay workers what they deserve, guarantee health care for all and stop the climate crisis.

And I know where it is. pic.twitter.com/7WLtI8bWp0

— Mayor Eric Adams (@NYCMayor) January 25, 2019
There is plenty of money to cure all of society's ill.  It's just in the hands of the wrong people.  If I take their money I can fix the world with it. – Vladimir Lenin Joseph Stalin Mao Zedong Ho Chi Minh Fidel Castro Hugo Chavez Bill de Blasio
What kind of person would look at the record of history and think that will work?
Nate.  Nate does.  (Screen grab for posterity, link to read the whole insane thread.)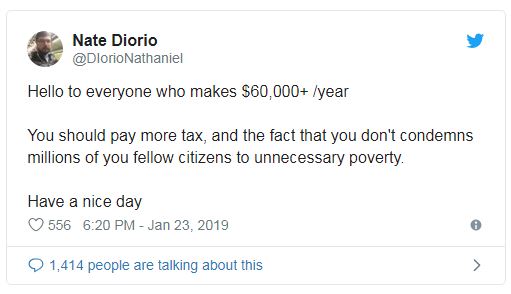 Remember what I said about dekulakization?
To the farmer with six cows, the farmer with a dozen cows was a kulak.  To the farmer with one cow, the farmer with six cows was a kulak.
There will always be someone poorer than you who thinks that it's not fair that you have more and wants to take what you have.
Congresswoman Alexandria Ocasio-Cortez promised us that she will only take 70% over $10 million.
I guess Nate here makes so little that $60,000 might as well be $10 million, and he wants to take it.
When everyone on the right said that AOC's tax plan would never work and the middle class would end up getting hit by it,  here comes Nate to prove them right.
By Nate's standards I'm a kulak, and I guess he is going to support de Blasio and AOC taking most of my money too.
I wonder which Green New Deal project I'm going to be worked to death building when Nate goes to the polls.