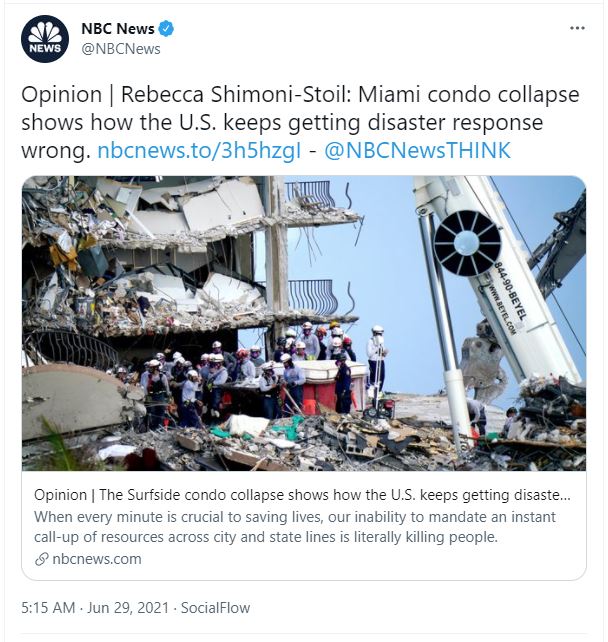 With America's local-state-federal divide, however, the country simply cannot guarantee a quick and efficient response to mass-casualty disasters as things now stand. When every minute is crucial to saving lives, our inability to mandate an instant call-up of resources across city and state lines is literally killing people.
The tragedy unfolding in Miami seems to reflect the inadequacies of the system we have in place. Hannah Dreier of The Washington Post questioned why it took Florida Gov. Ron DeSantis almost a full day to issue the necessary declarations to bring federal disaster response teams to the beachfront scene: "FEMA was ready to deploy to the condo collapse almost immediately, and included the crisis in its daily briefing, but didn't get permission from Gov. DeSantis to get on the ground for a full day."
Miami condo collapse shows how the U.S. keeps getting disaster response wrong (nbcnews.com)
The commentary and "facts" by Hanna Dreier already have been pretty much destroyed as a political hack job by anybody with more than two interconnected neurons. But to say that a quick response was not provided is an outright lie. This is a screen capture of just the Miami Dade Rescue units that had responded to the building collapse by 5:33 am which was the time I checked their calls response page.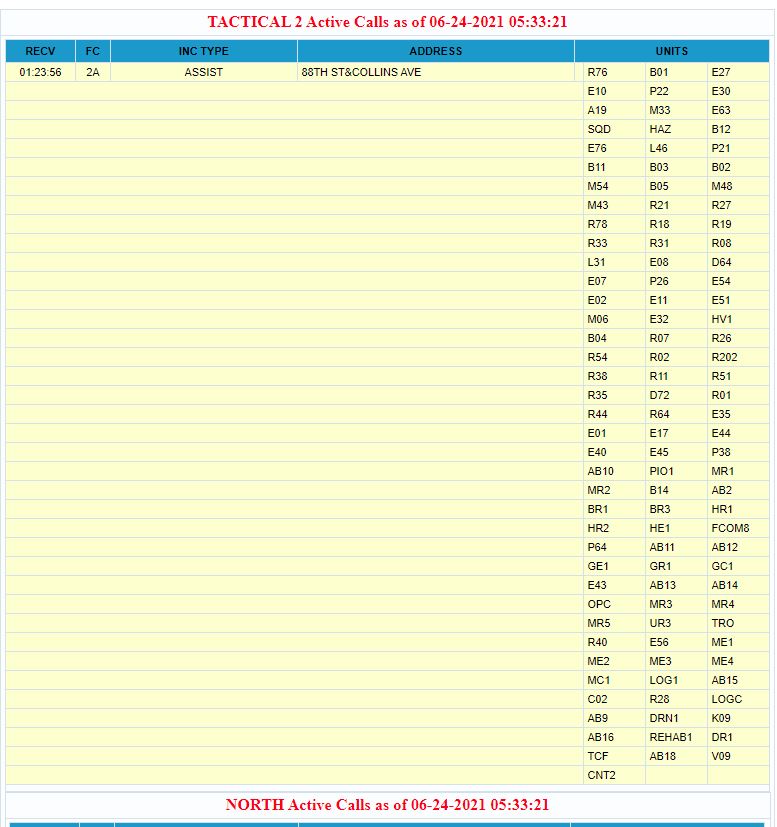 That is over 100 MDFR units. I don't have the exact time, but I believe that by daylight, any survivors stuck in the still standing part of the building were rescued and taken to a safe location. I guess we should have some Marvel Super Hero on call who is capable of safely levitate thousands of tons of concrete while gently plucking the remains of the victims in the time it takes to order a Mocha Cookie Crumble Frappuccino.
Response by rescue personnel was never an issue, but political attack jobs by the Media using the corpses of the trapped to attack the Governor of Florida is truly a sickening trend.