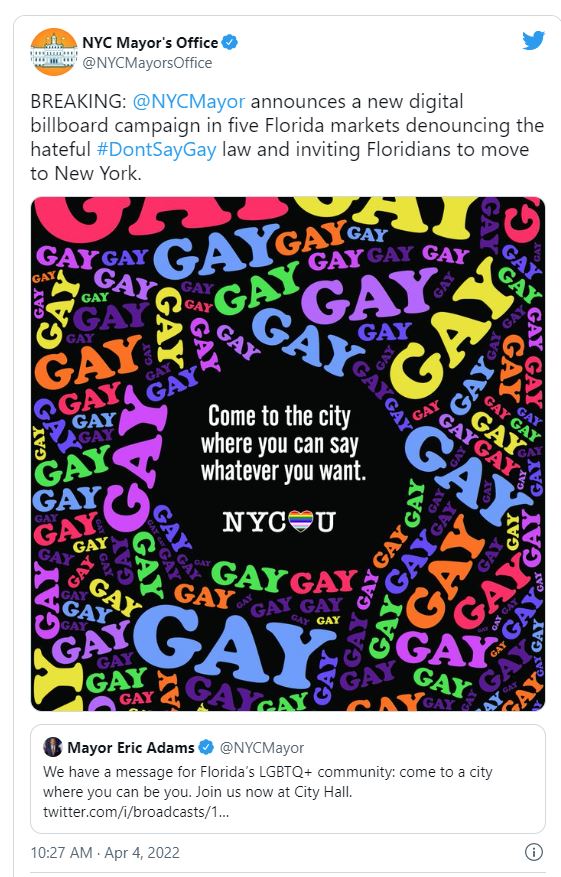 TAMPA, Fla. – New York City is launching an advertising campaign denouncing Florida's controversial Parental Rights in Education law with billboards across the Sunshine State, inviting Floridians unhappy with the state's rightward shift to move to the Big Apple.

The billboards supporting LGBTQ visibility will be displayed in five major markets in Florida, including Tampa, for eight weeks, starting Monday.

New York City mayor Eric Adams, a Democrat, made the announcement Monday, one week after Florida Gov. Ron DeSantis signed the controversial bill, which forbids instruction on sexual orientation and gender identity in Kindergarten through third grade.
NYC mayor buys billboards in Florida to denounce controversial law, lure unhappy Floridians to move north (fox13news.com)
Dear NYC Parents: don't forget to pack Vaseline with your kids' lunches.
Many have said so far: This Parental Rights in Education law is working far better than expected.
Florida Bill Already Doing Its Job, Teachers Abandoning Profession as Open Child Grooming Could Become Virtually Impossible (westernjournal.com)
Link's Hat Tip: Zeigfriedwhiffle