On Facebook, Mom's Demand Action is celebrating the Ninth Circuit Court's decision that the 2A does not protect the right of a person to carry a firearm outside the home in the Peruta v. San Diego appeal.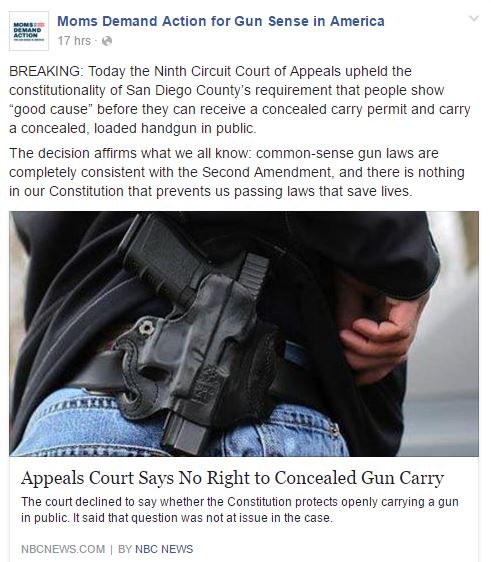 The Facebook post links over to this article at NBC which is complete garbage.  The article quotes the opinion of the court:
"The protection of the Second Amendment — whatever the scope of that protection may be — simply does not extend to the carrying of concealed firearms in public by members of the general public."
What neither NBC or Mom's note is that this is EXACTLY THE OPPOSITE conclusion that the 7th Circuit came to in Moore v. Madigan which forced Illinois to adopt concealed carry.  This was also the stance taken by DC District Court Judge Richard Leon when he struck down the "good cause" requirements for DC's CCW permit.  Even the 4th Circuit Court came to the conclusion that "good cause" requirements were burdensome to the Constitution in Woollard v. Gallagher in a challenge against Maryland's may issue requirements.  Although the 4th Circuit upheld the requirement because gun control passed intermediate scrutiny and a substantial government interest.
The article also fails to note that the 9th Circuit is the most reversed appeals court in the nation with nearly three-fourths of its decisions being reversed or returned on review.
According to The New York Times, the 9th Circuit is so liberal that:
"Judge Carlos T. Bea, another Bush appointee, said: "The Supreme Court is still slapping it down when the Ninth Circuit drifts too far left. And not slapping down 5 to 4, slapping it down 9 to 0's and 8 to 1's" — suggesting that those cases show that even the more liberal wing of the Supreme Court disagrees with his colleagues' reasoning."
Which says to me that when the 9th Circuit makes a decision, 75% of the time, they are at least 88.8% wrong about it.
But sure, NBC and MDA are going to cry victory in support of an ultra left wing court deciding that the Constitution doesn't protect a right the at least two other Appeals Courts and the DC district court says it does.
How very progressively statist of them.
I have never been more disappointed that SCOTUS didn't take up Woollard when Scalia was still alive.  With the Courts of Appeals divided on the issue of the 2A and the right to carry – 4th and 7th for, 9th and DC against – SCOUTS is going to have to set the record straight.
We need a new Scalia on the court.
I don't have a spare half a f*ck to give about who Trump is going to pick for his VP.  If he wants me to break my vow of Never Trump, he needs to release his list of SCOTUS nominees and they better be pretty damn conservative on Constitutional rights.