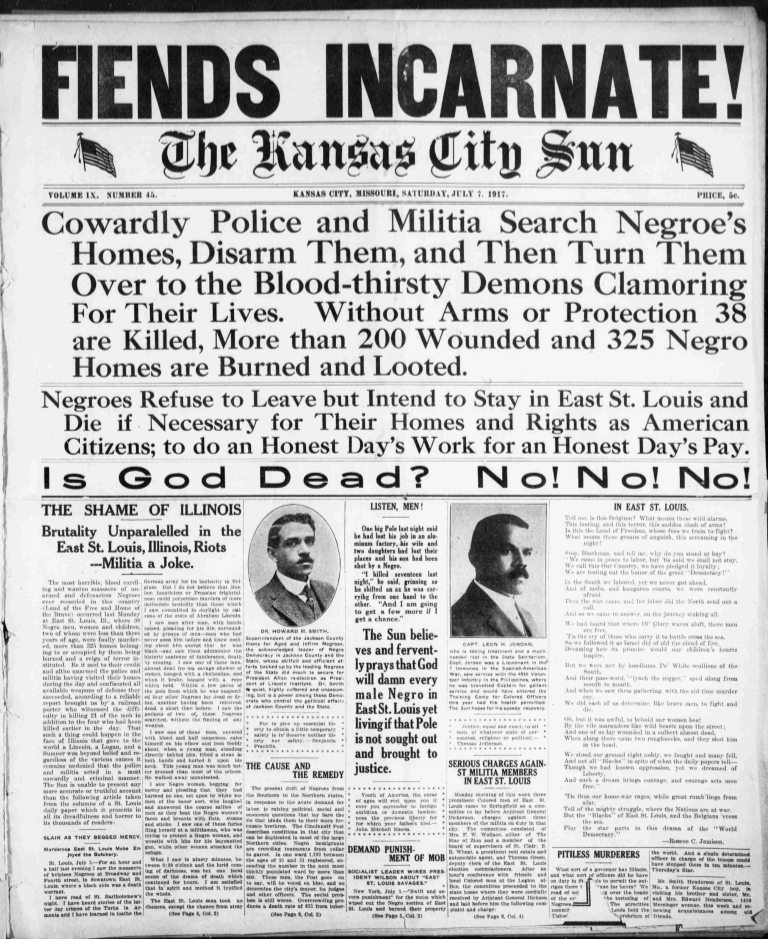 Cowardly Police and Militia Search Negroe's Homes, Disarm Them, and Then Turn Them Over to the Blood-thirsty Demons Clamoring
For Their Lives. Without Arms or Protection 38 are Killed, More than 200 Wounded and 325 Negro Homes are Burned and Looted.

THE SHAME OF ILLINOIS
Brutality Unparalelled in the East St. Louis, Illinois, Riots
Militia a Joke.
The most horrible, blood curdling and wanton massacre of un armed and defenseless Negroes ever recorded in this country'. (Land of the Free and, Home of the Brave) occurred last Monday at East St. Louis, ILL., where 38
Negro men, women and children, two of whom were less than three years of age, were foully murdered, more than 325 homes belonging to or occupied by them being burned and a reign of terror instituted.
(Kansas City Sun. Volume IX. Number 45. Kansas City Missouri, Saturday, July 17, 1917.)
Nothing I say can add to the story. If you do not learn, it is your head.