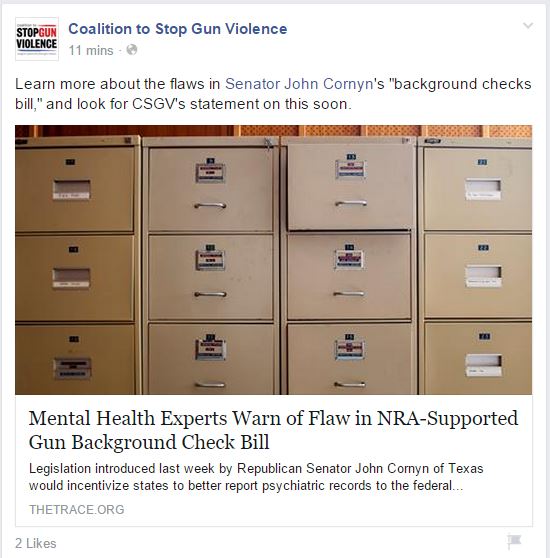 It goes to an article in The Trace so I am not giving them any link love:
 Legislation introduced last week by Republican Senator John Cornyn of Texas would incentivize states to better report psychiatric records to the federal background check system. The bill drew praise from both the National Rifle Association and the National Alliance on Mental Illness. But some mental health experts warn that the proposal would actually reduce the effectiveness of the current background check system by limiting the number of records FBI inspectors can draw upon when deciding if someone can safely purchase a gun.
Here is the funny thing: S.2002, Mental Health and Safe Communities Act might have been introduced but as of today, the text has not been published yet.
So what are the Opposition bitching about? My guess mostly rumors and even some second-hand copy of a proposal, who knows? But I go back to my usual warning: Get the source, not what somebody else is telling you. I already seen some Chest Bumpers on our side decrying the bill because 'squirrel!' and the deep need to be outraged for no damned reason.
Let's wait for the text to be published and keep an eye on the bill as it moves forward (or doesn't) with the usual changes it may have.
That is all. You can continue to Tuesday.