PALM BEACH GARDENS, Fla. (CBS12) – The estate of a boy stabbed to death during a sleepover in Palm Beach Gardens is suing Publix Supermarkets.

Corey Johnson faces one count of first-degree murder with a deadly weapon and two counts of attempted first-degree murder with a deadly weapon. He's accused of killing 13-year-old Jovanni Sierra on the boy's birthday at a home in Ballenisles on Mar. 12, 2018.

The LaBovick Law Group claims Publix illegally sold the knife that Johnson used to kill Jovanni and stab Elaine Simon and her son, Dane Bancroft.
Publix illegally sold murder weapon to teen in sleepover stabbings, lawsuit claims.
This is a head scratcher. Where is the legal basis for this? It comes to the old question of when does tool become a weapon and can you ban distribution if no Mens Rea is present. The lawyers enage in a verbose shaming of Publix with statements like "Publix has refused to change their reckless policy of selling knives to underage buyers and has spurned Florida law by intentionally failing to check identification before selling dangerous weapons to underage knife purchasers"
Here is the money quote (Pun intended)
The firm claims Johnson bought the knife at Publix hours before the attack. It's against the law in Florida to sell any weapons to people under the age of 18.
IANAl and surely do not have Florida Statutes 790 memorized, but I do n ot recall anything about minors forbidden to own knives. So I downloaded the lawsuit (always read the source) and things started to get clearer: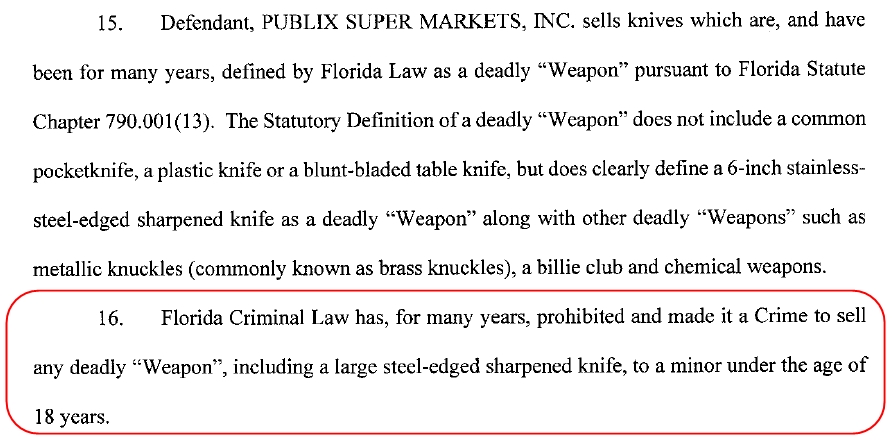 They almost got it. The only section in 790 that deals with minors being sold/transferred a weapon is 790.18 which reads:

Now, unless the lawyers manage to prove that Publix is a licensed dealer, I do not see how they are planning to win this case, unless the only thing they really want is for Publix to settle  out of court as fast as possible to avoid bad publicity and unnecessary legal expenses..
"Hey, for $100K we stop this and have everybody a non disclosure agreement and nobody accepts/issues blame. Deal?… OK we will take $75K"
Anyway, that is my uneducated opinion.
Hat Tip to Jeffrey B.