A Congressional intern saw President Trump in the Rotunda and decided to #Resist by yelling "fuck you" at him.
LISTEN: As Pres Trump's entourage entered Speaker Ryan's office in the Capitol, someone on the other side of the Capitol rotunda yelled: "Mr. President, F—k you!!" (He entered about 15 seconds later): pic.twitter.com/KHp16LYMoF

— Frank Thorp V (@frankthorp) June 19, 2018
Because half the nation has come down with collective insanity, the response from the #Resistance has been jubilant.
https://twitter.com/cherokeesher2/status/1009324970558808065
Shannon Watts – who I believe is going to run for CO Senate in 2020 – thought this was brilliant.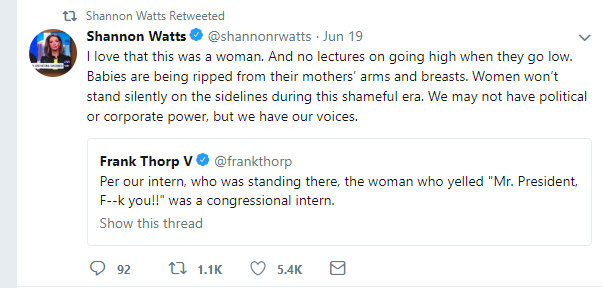 No more "go high, go low" they just want to scream curse words nonsensically.  That's all they have left.
Here is the problem.
I believe in debate.  I want to discuss things rationally.  If you stop listening and all you do is scream "fuck you" in my face than the debate is over.  There is nothing more that can be accomplished.
Civility has ended.
At that point there are only two choices, walk away or stop being civil.  That defaults to the law of club and fang.
This is the modus operandi of Antifa, scream curse words and beat people.
Just wait until that becomes the debate on the Hill.
It happened once before, in 1856 when Representative Preston Brooks beat  Senator Charles Sumner in the Capitol Building with a gutta percha cane over abolition.
Four years later the shooting began.
This is the path that we are going down when one side things that a Congressional intern cursing at the President in the Capitol is not detestable but praiseworthy.
There is little left to debate and arguments will be settled with beatings.
Then the shooting begins.