I am the weird one, the one that gets that call from pollsters and actually sits with them and answers all the questions. And I am weird also that as Hispanic, I tag myself Republican and Conservative (sorry, pollsters give no options on the "conservative for some stuff and libertarian on others.") which I have noticed it has startled some callers who seems to be working for the other side.
Last night I got a call and the two first questions were:
If the elections for Senator were held today, who would you vote for. The Republican candidate or the Democrat Candidate?
My answer was The Republican. (There is a method to my madness)
The next question was:
If the elections for Senator were held today, who would you vote for. The Rick Scott, the Republican or the Bill Nelson, the Democrat?
My answer was an emphatic:
I am not voting for either of those assholes.
That left the pollster in a bit of a bind. Apparently there is no "He/She ain't voting for either asshole" in the poll form.  She asked me if I was undecided, apparently the only available box to check mark an my reply was "Oh hell, I am fully decided all right. Neither one of those morons gets my vote."
I have no idea what she marked and really don't care. if they have a section for notes, I hope she wrote that subject simply will not vote for the assholes in the ballot.
Bill nelson is a known asshole and we can mold strategy knowing for sure he will screw us up at the first chance. Scott is an asshole that will also fuck us up at the first sign of pressure. Senator Flake is retiring and we really don't need to add another flaky bastard to the Senate under the disguise of a (R) after his name.
And this is an email I got this morning. It must be stinging a bit in Scott's HQ.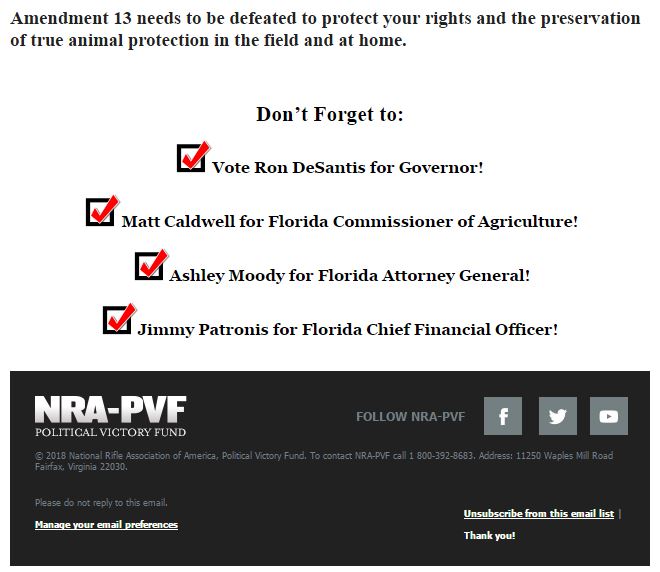 PS: This is the way I am voting, just in case you needed to know.