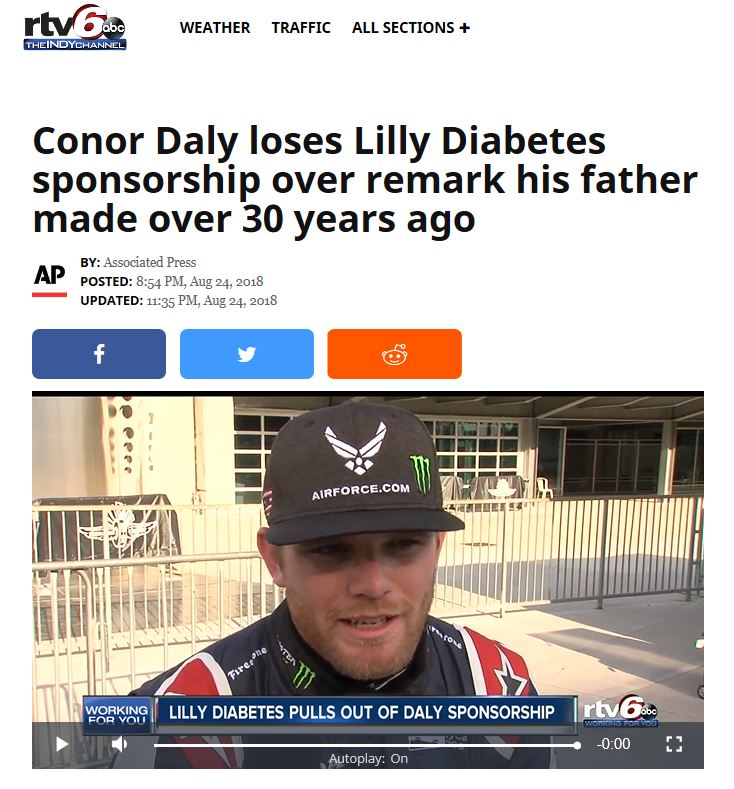 Conor Daly's father admitted he used the dreaded "N-word" over three decades ago and that made Social Justice Warriors lose their continence. Conor Daly himself is only 26 years old (DOB Dec 15, 1991). He is being punished for something that happened before he was born!
You wake up in the mornings and read stuff like this and simply ruins the day. Why are we letting a mob of idiots get away with stuff like this? Are we being polite to the point of dancing ourselves all the way to the gallows?
I found this quote and it applies all too well.
"It is unfortunate that in most cases when the sins of the father fall on the son it is because unlike God, people refuse to forgive and forget and heap past wrongs upon innocent generations."
― E.A. Bucchianeri, Brushstrokes of a Gadfly,
We are letting the Eternally Offended and Always Hateful dictate a very dangerous  set of Moral Laws, sort of a 21st century version of the Nuremberg Laws.
It seems that we find ourselves getting too close to the "Us or Them" moment and inevitably the herd will be thinned and common sense will have to be grown again over a pile of bodies.