First up, from Gallup: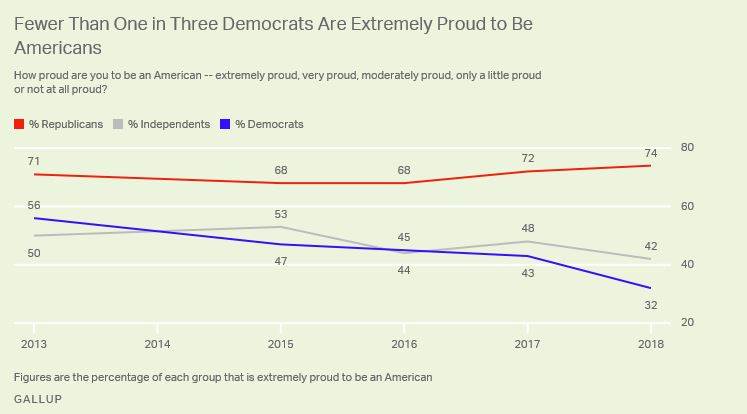 So only 32% of Democrats say that they are extremely proud to be Americans.  That is down from a high of 56% during peak Obama.
On the other side, 74% of Republicans are extremely proud to be Americans, which is up from 71% during peak Obama.
It seem that Democrats are fair weather patriots, who only are proud of their country when their guy is ruling with a pen and a phone, in direct opposition to the checks and balances and division of powers that our country was founded on.
The reaction to this poll on Twitter is about what you'd expect.
WOW! I can't understand why Republicans would be proud. They have destroyed everything Americans have fought and died for over the last 75 years.

— Sarah Crutcher (@crutcher_sarah) July 2, 2018
Like what exactly?  Unless she honestly believes that America is the Fourth Reich, in which case she is an unserious person.
I'm Green, not Republican nor Democrat, and I'm certainly not proud of this nation. Not even a little bit.

— Tall Mike ⌬ 💉💉💉 (@Tall_Mike_2145) July 2, 2018
So here we have a guy who lives in the wealthiest and freest society in the history of the human race and he's pissed because his radical ideology is not actively destroying that success.
Just a bunch of people living in luxury bitching about how bad America is.
Next, we turn to Rasmussen:
31% Think U.S. Civil War Likely Soon
This is why I keep saying "national divorce."
Most voters fear that political violence is coming from opponents of the president's policies, just as they did in the second year of Barack Obama's presidency, and nearly one-in-three think a civil war is next.
Thirty-one percent (31%) of Likely U.S. Voters say it's likely that the United States will experience a second civil war sometime in the next five years, with 11% who say it's Very Likely. A new Rasmussen Reports national telephone and online survey finds that 59% consider a second civil war unlikely, but that includes only 29% who say it's Not At All Likely.
With Antifa smashing things, members of Congress, Hollywood, and the Media calling for the harassment of White House staff, doxxing of Trump supporters, attacks on police, a call to abolish ICE, and the shooting of a Congressman, maybe people are catching on just how radical the radical Left has become.
These nutjobs have been wearing Che shirts for so long that they want to start LARPing The Revolution here.
The combined results of both polls seems to show that the far Left hates America, and if their Glorious Leader isn't going to rule it, the'd rather destroy the country than let the other side have any power.
I know that "59% consider a second civil war unlikely" but that may only be because the Dems have just started to embrace Abolish ICE.  Let that marinate in the minds of the Democrats and work its way into becoming a mainstream part of the platform and I think it will get a lot more likely.