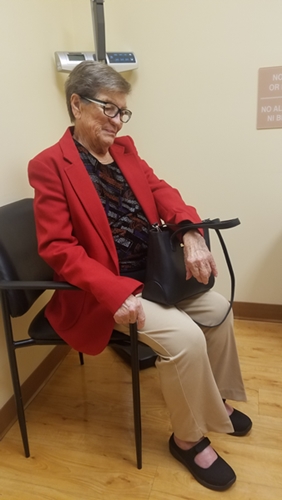 Mom is a crud magnet. Whenever we go for a doctors' check up, she manages to come back with something and spends a couple of days sick. This last time has been the worse as she actually was feverish on Sunday. This may not sound bad, but I never recall my mother ever having a fever since I known her. It was not much, just breaking over 100, but she was tripping something scary. A couple of Tylenols took care of that and she went back to "normal". she is still suffering the effects whatever crud she caught, but being 87 means it takes a lot of time to cure.
She has finally relented and accepted the fact she needs to walk with a cane or risk falling down and she is not happy about it.  I had been trying to scare her with the prospect of having to endure a broken hip and surgery, but she ignored me royally.  However it seems that almost falling out of fed and to her face, brought a smidgen of reason into her.
And overall, I have come to the realization she is not as healthy as she was a year ago, nor she will get better. And yes, the missus and I  are preparing ourselves for the inevitable.
No one gets out of here alive, so they say.