According to the great "trustworthy" Mass Media types and with the official confirmation of none other than Super Former President Jimmy Carter, I am now a Racist because I am against the ultra-left wing policies of this administration. That kinda gives you a load of warm-fuzzy, doesn't it?
How desperate can the Ultra Left must be to be throwing the Race Card around with such agility? Note to the first I-Hate-America-and-I-sucked-as President Jimmy Carter: A majority of voters elected President Obama. So when you state that ""There is an inherent feeling among many in this country that an African-American should not be president." there tends to be a contradiction with reality, you know, the one that real people live and work? That one you do not seem to understand? Yep, that one.  If a majority of voted for him it would be a good guess that also a majority of Americans is not racist and they are just fed up with the LIAR in a very short time.
I really don't give a flying crap how the melanine in your skin diffracts light and gives you that particular shade or if you light candles to a particular deity or not or if you engage in private  games involving Crisco, a bottle of milk, a saddle and a tuning fork with a consenting adult (apologies to Return of the Killer Tomatoes) or even your political views as long as they do not interfere with the Rights recognized in the Constitution. However, I am prejudiced to hell against those assholes that swore to protect and defend the Constitution without any reservation or purpose of evasion but they did just that. Yes, I am prefuduiced against Communist Red because my kin lived under the "wonderful" Communist shitholes. I get pissed when members of congress extol the virtues of Fidel Castro and or Administration Czars that consider the Chavez Revolution as a good thing. Against idiots like that, yes I am prejudiced and no amount of sensitivity training is gonna change that.
And before I am outed and before some enterprising young couple disguised as pimp and prostitute go through my account at WalMart Photographic section, I am displaying a picture of a local KKK gathering I just attended locally.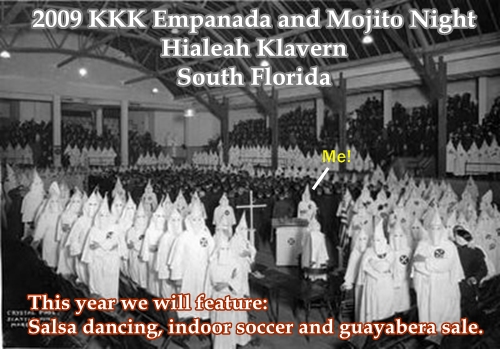 And in case somebody have not figured out yet, I am a Spic A.K.A a member of the "Oppressed" races with a Hispanic background and I don't give a damn if you want to call me names, but do not condescend me or tell me what's good for me because you know better. That is the truest form of racism ever designed.