If you haven't see it, here is the video of Smash Racism DC/Antifa "protesting" Tucker Carlson's house.
Back in the day, when Democrats did stuff like this, they also lit crosses on fire.  My guess is that that the only reason these ones didn't is that the new breed of Snowflake Democrat can't work a saw or swing a hammer to make a cross to burn.
Full Disclosure: Tucker Carlson is the only news show or TV pundit that I watch.
Smash Racism DC released a statement to the media.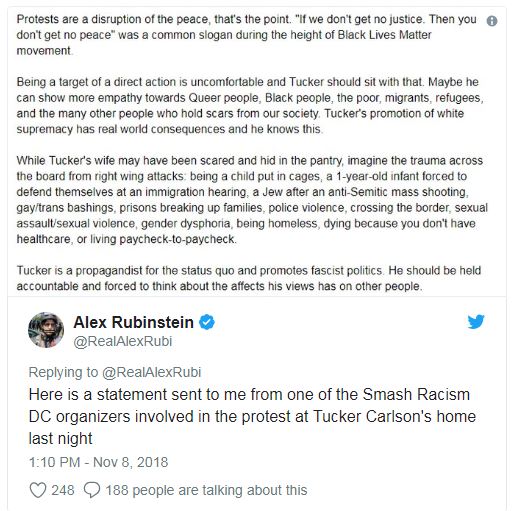 We have covered Smash Racism DC on this blog before, and this ridiculous statement falls in line with all the others they have made.
I don't know what world these people live in, but is is not the fascist dystopia they claim it is.  Sure the optics of handling illegal immigrant child traffickers at the border was bad, but that wasn't tantamount to Auschwitz.
I still am unaware of there being any camps in the desert for gay or trans or black or Hispanic American citizens.
As a Jew, the Left scares me fare more than the Right.  Despite the Tree of Life shooting, actual neo-Nazis are rare compared to the radical "anti-Zionist" anti-Semites that fill the ranks of the intersectional Left.
These people can feel free to disagree with me, but Tucker is not a white supremacist propagandist and is not instigating violence against any minority group in this country.
The most important part of this statement was the part about his wife.
Because the Left has cranked up the hysterics past 11, where they feel that racist Right Wing boogeymen haunt every dark corner ready to murder them, they feel they are entitled to make other people they disagree with feel real fear.
They want to make Tucker's family suffer because of perceived, irrational fear on their side.
This is nothing short of domestic terrorism.
Along comes Matt Yglesias. He is a lead writer at Vox and is one of the go-to "Voxplainers" for Lefty millennials.  This is not someone without influence in the Antifa demographic.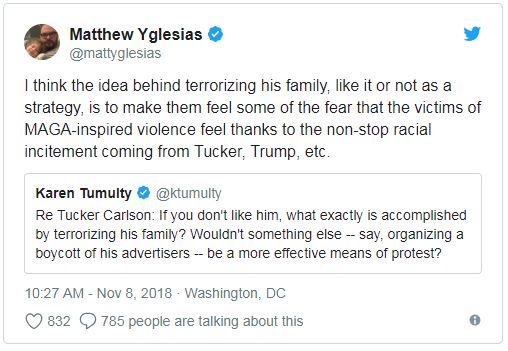 That is a member of the media totally justifying Antifa domestic terrorism.
"Bad Orange Man says stuff I don't like, Tucker shows it on his show, we must scare the shit out of Tucker's wife to teach him a lesson."
It seems to me that almost all the violence has come from Trump haters.  Either the radical Left, radical Islam, or that nutjob in Puttsburgh who thought Trump was too Jew-friendly.
I'm still looking for this wave of violence from people who claim "I murdered a bunch of Mexicans because Trump said it was okay to."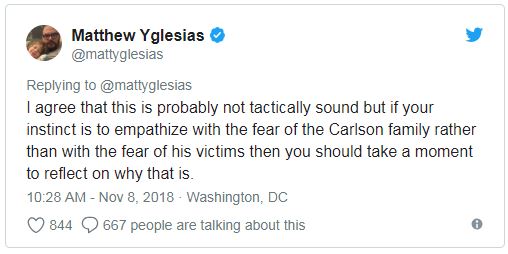 "If you are a middle class moderate American, you may not like the sight of a masked mob scaring the shit out of a woman and her kids because they don't like what her husband says.  That's your problem because you are a bad person and a Nazi supporter."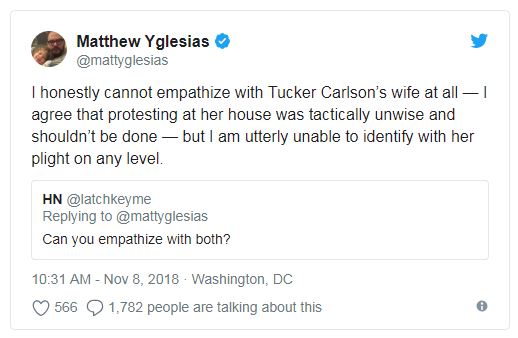 "I'm a sociopath who enjoys making people suffer because they have a different political affiliation than I have."
If Yglesias wasn't such a soft-hands soy boy, he would had have fit right in with the Brownshirts or Blackshirts with that attitude.
The violence that we saw in Trump's first two years was just a taste of what's to come.  An Antifa amuse bouche.
The GOP won the Senate.  Florida is trying to cheat that win back by one seat.  The Dems have the House but not by a veto proof majority.
The House could impeach him, but he can't be removed from office without a conviction in the Senate (everyone forgets that part).  If the Democrats were successful in Impeaching Trump, it would go to the Senate where a true three ring circus money poo-flinging shit show would occur and the chance of conviction approach zero.
It looks like Trump will have another SCOTUS seat to fill before his reelection.
In all likelihood, the next two years will be total legislative deadlock with the Democrat Resistance just embarrassing itself with sensational smears backed by zero evidence.
This really is the perfect breeding ground for Antifa.  They have all the "Orange Man Bad" they want in the House and the Media justifying their violence.
Start buying ammo, I can only see this getting worse.