I left a comment on my previous post that I thought I might as well turn into a full post.
I've talked about UL RSC (Underwriter Laboratory Residential Security Container) standards and double eye-locking before.
I am a nut for gun safes.  When you own a lot of guns, proper storage of those guns is important.
In long-range shooting, they say you should spend as much on the optic as the gun.  Why buy the most accurate rifle made, if you are going to mount a crappy scope with shitty rings and mounts?
I have a similar thought about safes.  Why spend $10,000 dollars on guns and then leave them sitting in a closet where they can get stolen?
$10,000 in guns deserves $2,000 dollars in safe to store them in.  A high-quality Browning or Liberty safe from Cabela's is going to cost you that much.
Especially because most home insurance companies will only insure guns up to a specific dollar amount.  Ask, I did, and I was shocked that my upper limit was $2,500.
I have two safes, both are custom made by Fort Knox and are as overbuilt as I could get them.  Double-layer steel, outer body that is 1/4 inch thick, extra thick plate door, etc.
Yes, I am a security nut.
But let's say that you don't have an amazing shitload of guns.  Just a couple of handguns and maybe an AR or shotgun.  Or you don't have the money to invest in a big fancy gun safe, but you want to keep your guns secured and locked up.  What do you do?
Here is my recommendation.
Do not buy a shitty made in China gun safe from Harbor Freight or Sam's Club.  I do not for one instant trust the locking mechanisms on those.  I've had too many made in China LED flashlights die to trust shitty made in china circuit boards.  The last thing I want is my digital combo safe (they are all digital now) to die and lock me away from my guns.
I went nuts last Christmas during the Home Depot post-Christmas blowout and bought a great set of DeWalt 20V max tools.  Then I realized I had more than a grand worth of tools just sitting in my garage.  That's like leaving a pair of 1911's on my workbench, it's a stupid thing to do.
I did some searching and I found a Ridgid portable storage chest.  Kobalt has one that is identical called a portable jobsite box.  I really love the locking mechanism on these, the padlock is very secure.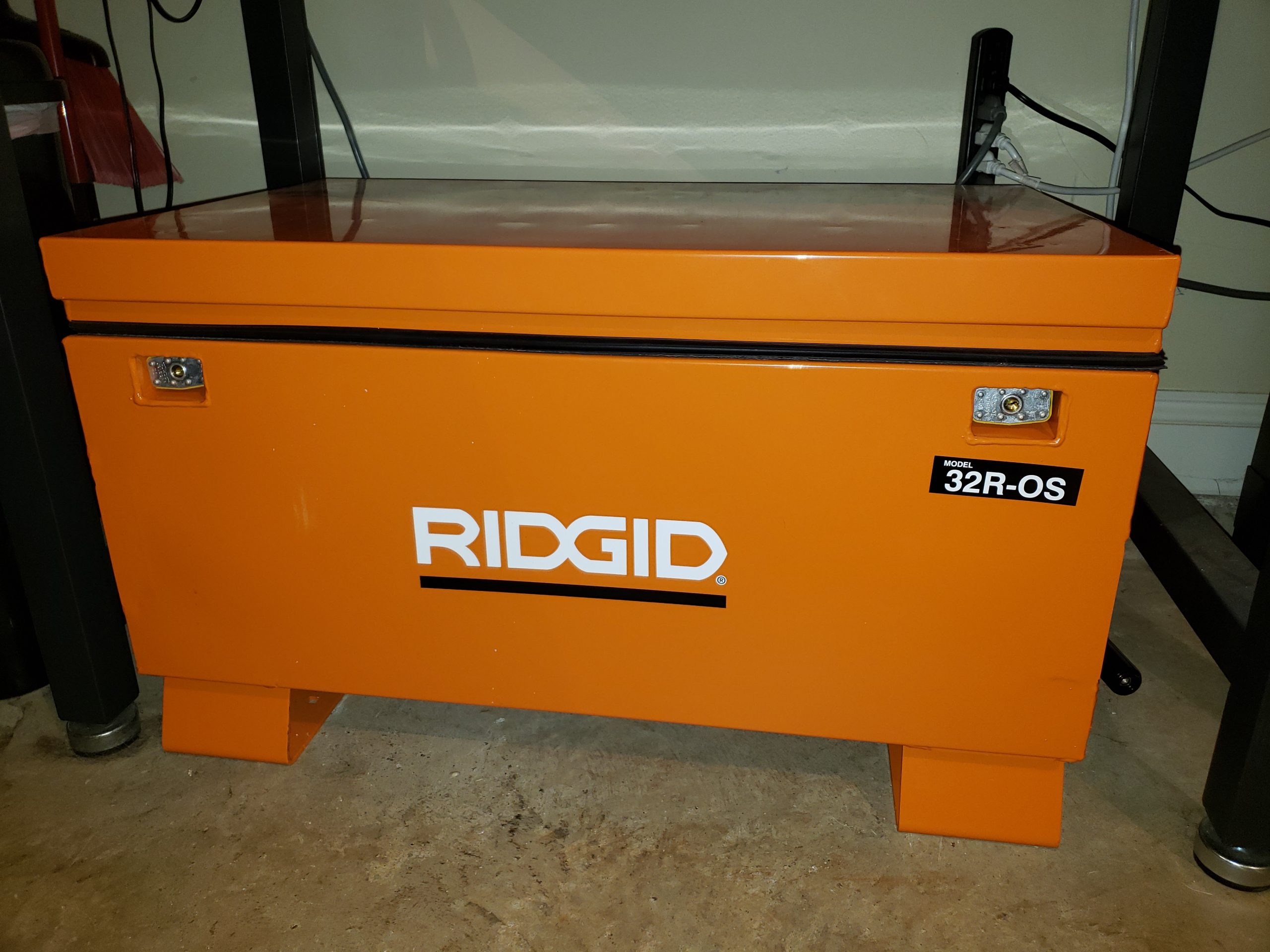 With all my coupons and sales stacked up, I bought mine for just over $100.00
It' more than large enough to hold all my DeWalt tools, including my 20V chainsaw with the 12 inch bar.
It would be plenty large enough to told some pistols in their boxes as well as ammo, and even a few AR-15s if you broke them down and took the receiver halves apart.
But how do you stop some asshole from just hauling the whole box away.
The solution is two Redhead half-inch drop-in anchors, two half-inch eye bolts, and a Kryptonite U-shaped bike lock.
What I did was sink the two drop in anchors into the concrete with a rotary hammer (a hammer drill will work, but it takes longer and was an excuse to buy a rotary hammer) and a 5/8 inch bit.
I spaced the anchors so that they were on either side of one of the feet, which are metal loops welded to the bottom of the box.
I then screwed in the eye bolts and aligned them so the U-shaped bike lock would pass through two feet and both eyes and lock.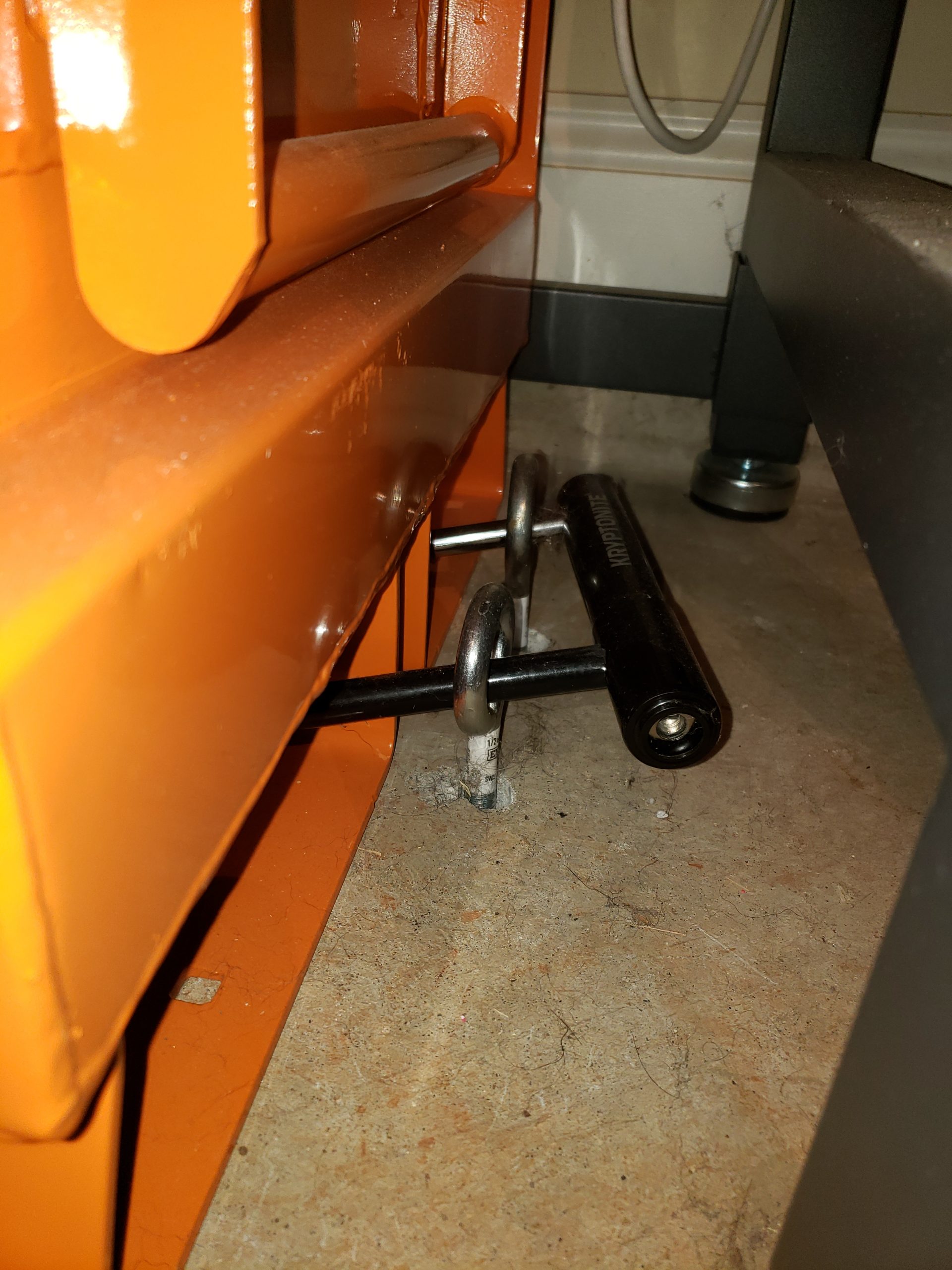 By doing this, the eyes can't be unscrewed from the anchors without the bike lock removed.  There is about 20,000 pounds of holding force in the anchors, so it would be hard to pull it out with a pry bar.  And someone would have to cut both eyes, both feet, or the Kryptonite bike lock to free the box.
Altogether, the box, locks, anchors, and eyes cost me less than $200.
My handy-dandy Mitutoyo digital caliper (what, you don't have a digital caliper in your arsenal of tools?  get one, it's great for precision sight adjustment) the box is made from 14 gauge steel, which isn't great, but is the same thickness as the body of most lower end gun safes in the $500 – $700 range, and thicker than the steel of those Stack-On gun cabinets (I have some of those too, but I installed shelves and use them for ammo storage).  The box feels pretty solid.
As a bonus, if you use one of these for gun storage, it doesn't scream "gun storage."
I have mine in my garage because it holds tools, but it's small enough that it could be mounted into the floor of a closet using this same technique on a slab floor or using properly sized lag eyes into joists.
Again, this is only my recommendation for a low costs option.
I personally wouldn't store in $20,000 in guns in a large Job Box, but if all I had was a pair of Glocks and a budget-priced AR-15, this might be a cost-effective way to store them against theft.
Update:
I want to make this point crystal clear when it comes to any advice I provide on gun storage or security.
All security can be defeated. It is a matter of time and effort. You just have to make the time and effort to defeat the security not worth the investment of time end effort to the thief.
I'm data driven. Most home burglaries take a few minutes and are done by guys who want stuff they can sell or trade for drugs. They would rather spend three minutes lifting your TV's off the wall and stuffing your wife's jewelry into bags than trying to pry open safes and lockboxes.
The best thing you can have is an alarm.  That automatically limits the criminals' time the have to take your stuff and they will prioritize easy over hard.
I put a lot of security into my guns because they have meaning for me.  I have no emotional attachment to my TVs.  I will be very pissed if my guns are stolen because I put time into customizing them and loving on them.  If my TV is ripped off the wall, I'll get a new one from Best Buy.  The most upsetting thing about that is the deductible.
I want the thief who breaks into my house to say "I have three minutes, I'm not going to fuck around with his Fort Knox safes, I'm going to help myself to his electronics."
I have made personal decisions as to the cost-benefit analysis of how much some of my stuff is worth and how much I am willing to spend to secure it.
If you chose to have a higher or lower security cost to item value ratio, that is entirely up to you.
I'm only telling you what I see as reasonable.