I saw this one on the news last night and I couldn't believe it.  I had to look it up and it seems to be accurate and confirmed.
North Dakota Democrats to hunters: Voting could cost you your hunting license
Democrats are warning hunters if they show up at the polls they may miss out on the next hunting season. The ads are well-designed and authoritative and the message, misleading: "Attention Hunters: Voting in North Dakota could cost you your out-of-state hunting licenses." Put another way, it seems the party is telling voters that they can't exercise one right without losing another.
North Dakota columnist Rob Port was the first to spot the misinformation campaign, and a cursory search using Facebook's searchable database tool confirms it is the North Dakota Democratic Party behind the ads. But while the ads are real, when contacted by Port, the secretary of state and the North Dakota Game and Fish Department couldn't think of any reason why voting would endanger a hunting license.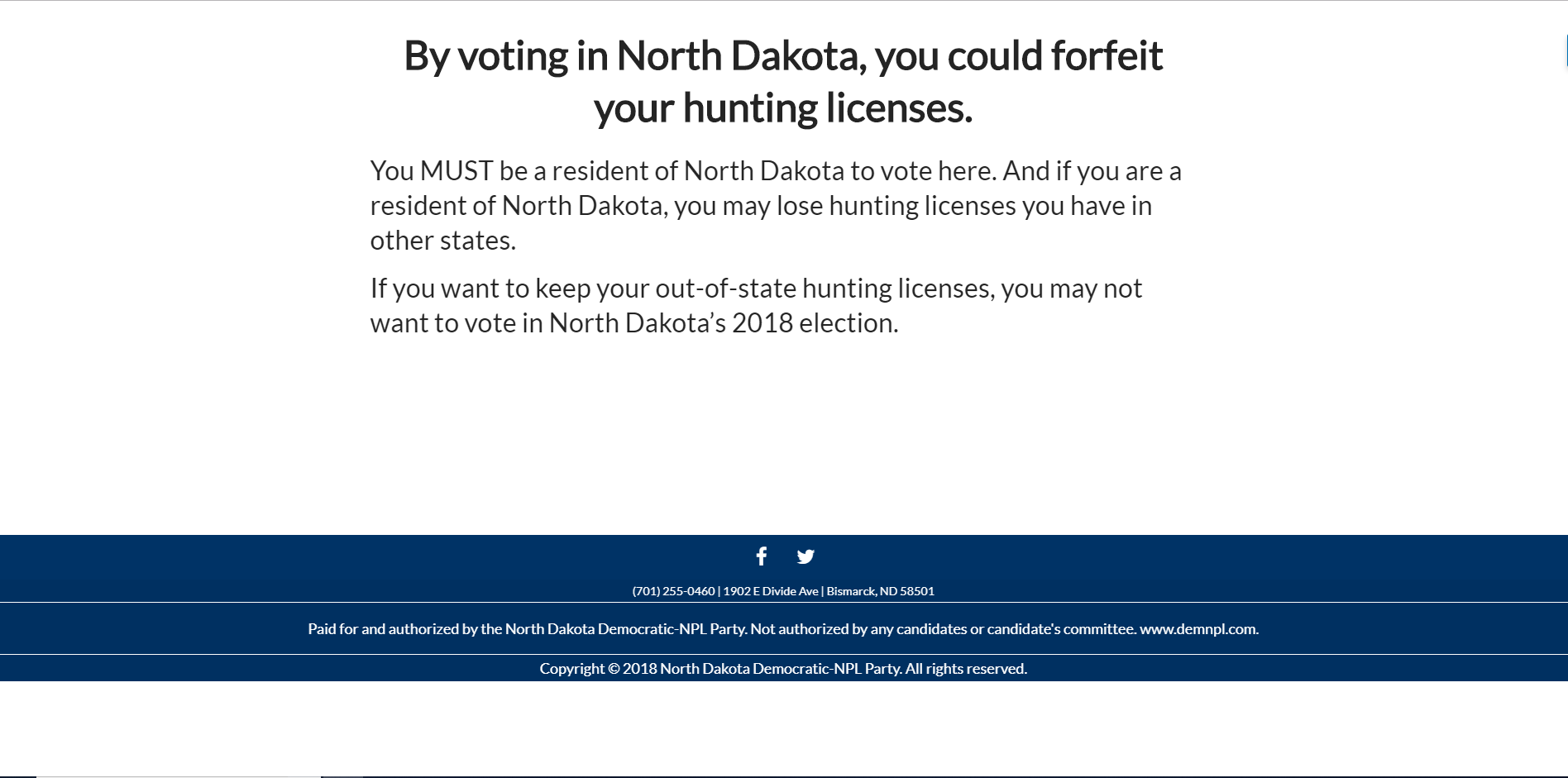 Fortunately for hunters and unfortunately for North Dakota Democrats hunters and law abiding gun owners, by and large, work very hard to know the law and understand the regulations that govern them because remaining law abiding citizens and not losing our licenses and rights by doing something stupid is very important to us.
A statement like this is something that a hunter would want to verify.
Rob Port did just than and was told it was bullshit by the state agencies in charge.
I've been writing about politics for more than 15 years now, and this is the first time I've ever heard of something like this.
I contacted Secretary of State Al Jaeger and asked if he'd ever heard of this claim before. "No," he told me. "We're not involved at all in the requirements for getting a hunting license. A question like what you have needs to be directed to the Game & Fish Department. I doubt that there's any connection."
"We've never heard of that," Randy Meissner, the licensing manager for North Dakota Game & Fish, told me when I contacted him and read him the text of the ad. I sent him the links and screenshots for the ad and he said he was going to run the claim by his administration.
Good, I hope there is an investigation.
Obviously most states have a distinction between resident hunting and fishing licenses and non-resident licenses. I suppose the ad could be making an allusion to that, but it doesn't make the distinction. A plain reading could lead a North Dakota voter to believe that their perfectly legal, non-resident hunting or fishing license in South Dakota or Minnesota could be at jeopardy from voting.
At best, this ad is deeply irresponsible. And a bit hypocritical coming as it does at a time when North Dakota Democrats are accusing the Republican legislative majority in the state of trying to suppress Native American votes with voter ID requirements.
As usual, this is Leftist projection.
It is clearly targeting a core Republican demographic, white male gun owners.  Even as the gun community becomes more diverse, hunters are still overwhelmingly white men.  (Making hunting more diverse is something the hunting community needs to do and how to do that is a discussion for a different post.)
I guarantee that some staffer who believes the Liberal stereotype that all hunters are stupid rednecks though this was a great way to scare them away from the polls.
Just like the campaign to get anti gun activist to watch out for and report people suspected of carrying concealed in a polling place (even in states where it is legal) their goal here is to use your Second Amendment rights to keep you from voting.
My only hope here is that as the news of this monumentally unethical tactic spreads, it motivates gun owners to vote against the party that tried to do this to them.