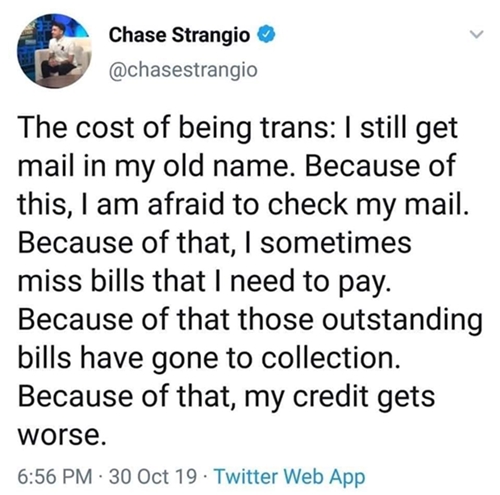 Contrary to my usual custom, I am posting a tweet captured by a third party and I was not able to find it myself. It may have been deleted or not done although the person does exist and is rather enthused about those subjects.
Why the exception, because I have see a couple of posts in Social media about the same subject by other Trans(s?).  One of the arguments was related (IIRC) to a legal issue with a rental contract which was on the originally issued name but the person refused to go by that. Well Charlene Brown, if your Trans name is so important to you, do what hundred of thousands of people have done over the years: Legally change your name!
It is cumbersome? A bit, but not really that much of an issue. And you do want to remain in the good graces of government departments if you do it the right way because some of them have no sense of understanding if you ignore them because of you name tantrum episode. I am thinking mostly the IRS and it does not matter how devoted to the caus you are, your federal mugshot will carry your "dead name" (That is what they call the originally parent-issued name).
Butch up, do it right, stop bitching.