Via Reddit.

"I bought this thing off the street," he says last night, not 20 feet from where the unthinkable happened. "This is a gun that was probably never tracked. No one knows where it came from. No one knows where it would've gone. [I bought it] off the street, you know—friend of a friend. Thing is, I put out the word that I wanted a gun, and seven or eight hours later, I was buying it out of the trunk of a car."
Source: How to Cut a Handgun in Half with a Chop Saw – Slog – The Stranger
If the story is true (you never know with these Gun Control types) the owner of Cafe Racer, Kurt Geissel broke Washington State's law about private transaction of firearms without the proper background check done by a licensed dealer. The law categorizes this crime as a gross misdemeanor.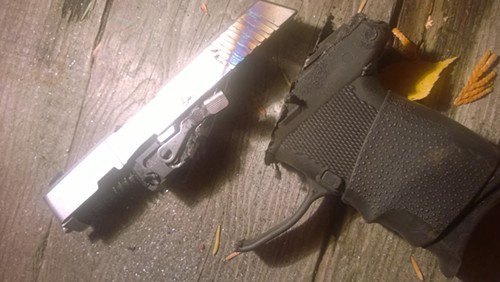 If arrested, tried and convicted, Mr. Geissel could be punished by "imprisonment in the county jail for a maximum term fixed by the court of up to three hundred sixty-four days, or by a fine in an amount fixed by the court of not more than five thousand dollars, or by both such imprisonment and fine."
Now let's see if the authorities do their job and arrest Mr. Geissel… yeah, I am not expecting that either, he more likely will get the Gregory Exception. Those are laws that only apply to them Gun Nuts, not artistic liberal people that have the best intentions at heart…if it only saves one life, do it for the Children! And you are racist because it is Bush's Fault.