This Tweet: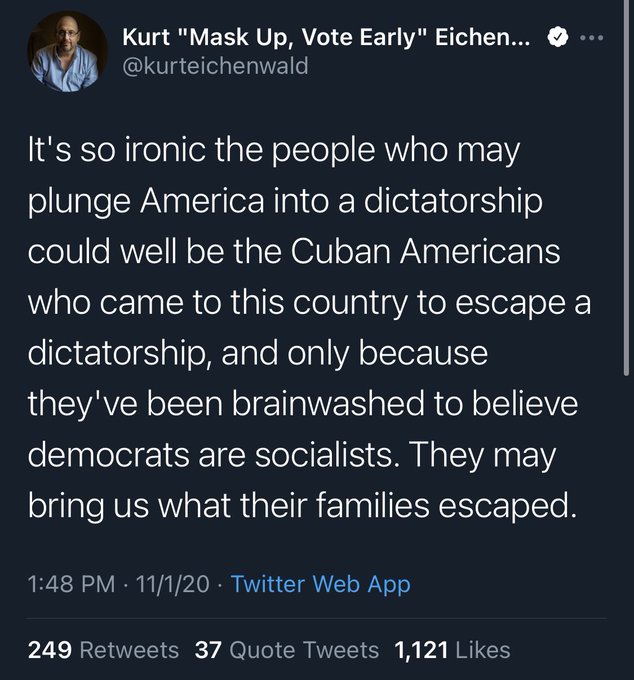 I've told this story before.
Years ago when I was still living in Miami, I saw some college punk walking around South Miami in a Che shirt thinking he was hot shit.
A little old Cuban lady walked up to him screaming "Che mato mis hermanos, Che mato mis hermanos" ("Che killed my brothers, che killed my brothers.")
Then proceeded to beat him in the head with an aluminum hospital cane.
Nobody rushed to help the punk, because if you are in Miami getting beaten by a refugee from Cuba for wearing a Che shirt, you fucking deserve that shit.
Wear a Che shirt down Calle Ocho in Little Havana, and if you are lucky, it will only be a cane you are hit with, more likely it will be a machete.
I grew up listening to the horrors of the Cuban revolution and what Che, Castro, and their goon squads did to the people there, first-hand from the grandparents of my friends who witnessed it.  That has imbued with a visceral hatred of communism as strong as my visceral hatred of Nazism from all the holocaust survivors who came to speak to us at Synagogue Sunday school.
Any piece of shit who believes that Cuban refugees, and their children and grandchildren who were raised on the stories of what happened in the old country are confused and don't realize that Trump is just like Castro would be laughable if it wasn't maliciously insane.
This is the sort of horseshit that can only come out of the mind of some liberal arts educated dufus that has spent his entire adult life inside the tiny, airtight Leftist bubble of the New York/DC Lefty establishment.
He needs to go down to Calle Ocho in Miami and try to convince the old Cubans there that are really supporting a dictator when they support Trump and that they should support Biden and the Democratic Socialists like AOC that are behind him.
If he is very lucky, he'll only get beat with a cane.