I am getting a little sick of hearing how STEM hates women.  I have heard all the tradition responses to that statement.  Perhaps women have different abilities and interests that make them less likely to go into STEM.  Maybe women choose different career paths for personal reasons.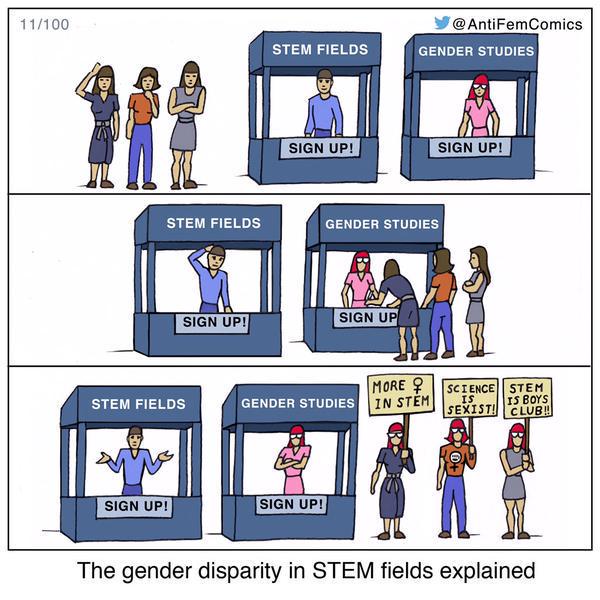 But I'm not posting to rehash those arguments over again.  Instead, I am going to prove that STEM, and engineering in particular, has done more for women's liberation than all the hairy leg, bra burning, feminist protesters in history.
First, what needs to be understood is what life was like in the 19th and early parts of the 20th century.
Housework consumed an enormous amount of time.  Heat was provided by wood or coal burning fireplaces and stoves.  Those required constant maintenance.  They had to me cleaned and the ashed shoveled out.  Cleaning was done by hand.  Not just sweeping the floors, but rugs had to be hauled outside and beaten.  Laundry was washed by hand and hung to dry in a grueling, day long chore.
Common foods like bread were regularly made at home rather than bought.  The lack of cold storage meant that meat either had to be purchased fresh or, in rural locations, was killed fresh.  Butchering the family hog was another day long event as much of the meat had to be cured or preserved to make it last as long as possible.  Cooking was done on a wood burning stove or in a wood burning oven which required near constant tending, as temperature control was limited and could start fires.
Clothes for children were not commonly purchased and were often made by hand stitching, which again, would take a whole work day worth of time.  In rural areas or in poorer households, even adult clothing was made by hand.  In (one of my favorite books) Where the Red Fern Grows, which takes place in the Ozarks of Oklahoma in the early 20th century, a pair of store bought dungarees were a luxury good.
The lives of wives in rural and middle America was backbreaking working, described as  drudgery and toil.
All of this was just regular housework, and doesn't include other chores, repairs, and tasks that might crop up day to day.
In poor areas, housework was still done by hand by women after WWII.  The BBC show Call the Midwife shows – quite accurately – what women's work was like in the working class docklands of London in the 1950's.
So what changed?  What liberated millions of women from slaving in front of stoves and washing tubs?
STEM!
The electrification of America round about WWII and part of the New Deal paved way for every home to have electric appliances.  Electric stoves brought about the age of "set it and forget it" cooking, freeing up time.  Laundry now takes an hour or two per load, and only about 5 minutes of actual work (loading and unloading machines) because of washing machines and dryers.  Dishwashers and vacuums freed up much time needed for cleaning.  Refrigerators allowed longer food storage before spoiling, making the need t0 purchase of groceries a less frequent event, and allowed for the preservation of leftovers.  The microwave allowed for meals to be made ready to eat in minutes.
And that is only on the domestic front.
Industrial changes in manufacturing meant that clothing for all ages could be bought cheaply, and it was easier to throw out worn items than patch and repair them.  The grocery store made the purchase of household items a one-stop trip, rather than having to go to the butcher, baker, green grocer, dry goods, etc.  Mass manufacturing has reduces the cost of domestic goods to the point where they are available to even the poorest homes.
The result is that the average woman only has 11.5 hours of housework per week, which isn't particularity strenuous, down from the dawn-to-dusk backbreaking labor their grandmothers and great grandmothers did a century ago.
Notice that the rate of women's participation in the workforce shot up as time saving domestic devices became more widely available.  When daily housework requirement go from 12 hours a day to 2 (or less) what did women do all day?  They went and got jobs.
Mechanical engineering, electrical engineers, industrial and manufacturing engineers, machinists, linemen, welders, miners, and all the other people in power production and distribution, manufacturing and assembly, and all forms of heavy industry, created the goods that freed women from the home.  The wall outlet, washing machine, and microwave did more to liberate women than all the campus marches of the 60's and 70's combined.
The next time a feminist gripes about how women are oppressed by engineering, politely reminder her that the reason she has time to complain about female oppression on Tumblr, is that she is not having to spend all day washing the panties she currently has in a knot, by hand in a wash tub with water boiled on an open fire, because some team of engineers at Whirlpool and GE designed her a washing machine and water heater to do that for her.