I am sad to say I was waiting for something like this to happen.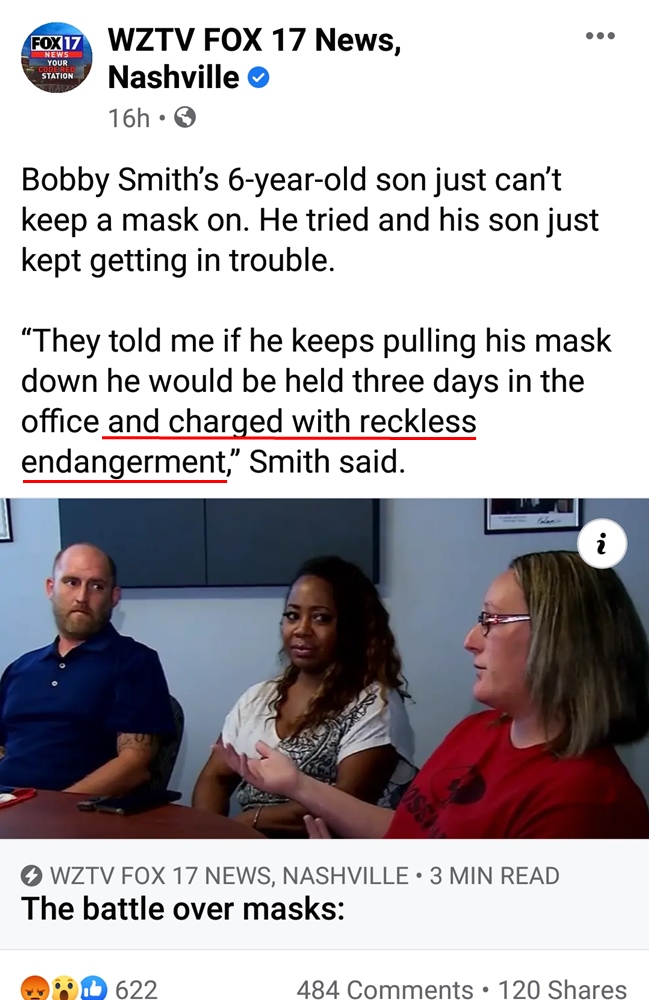 2010 Tennessee Code
Title 39 – Criminal Offenses
Chapter 13 – Offenses Against Person
Part 1 – Assaultive Offenses
39-13-103 – Reckless endangerment.
39-13-103. Reckless endangerment.

(a) A person commits an offense who recklessly engages in conduct that places or may place another person in imminent danger of death or serious bodily injury.

(b) Reckless endangerment is a Class A misdemeanor; however, reckless endangerment committed with a deadly weapon is a Class E felony.
So a kid is doing what kids that age do, specially if adults are not all over him. And you are going to sit there and tell us straight to our faces that all the kids at schools wear masks all the time? Bullshit they do. At best they may be having 60% compliance and pretend they did not see them unmasked.
I believe (I might be wrong) that this is just another example of a Teacher's Union playing power politics just because the Governor happens to be Republican and they want to flex their power.
Jimmy Hoffa would be proud at their level of organization and corruption: "Do we need to fuck up a six-year-old's life to demonstrate out power? Do it. "
And they will do so with a smile and joy in their souls.