I bumped into this pic in another blog: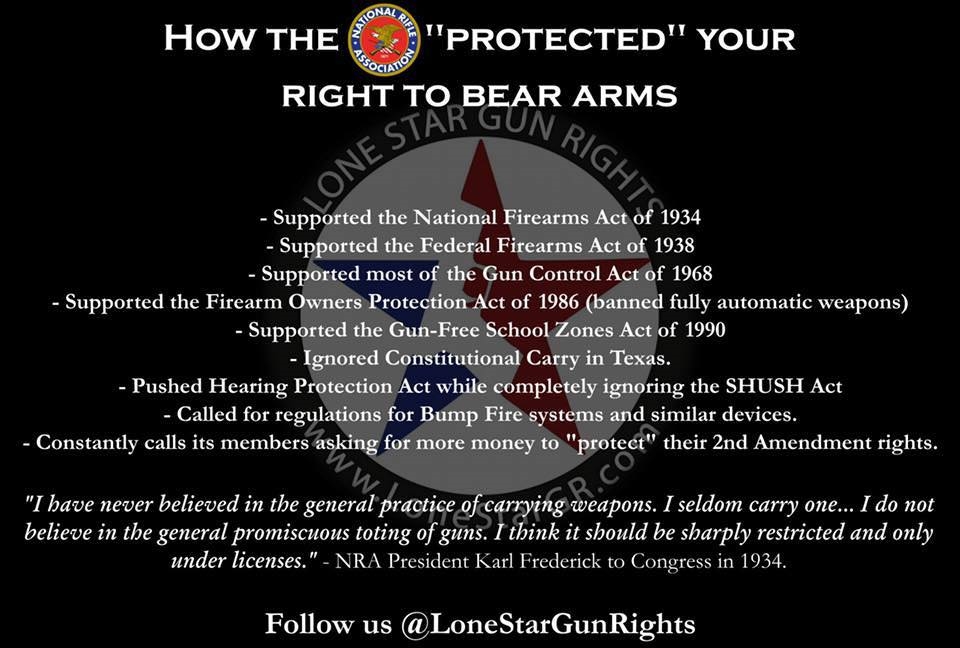 Before I continue, I want to remind you of a quote from the movie Absence of Malice that old readers know I like to use a lot:

So right out the bat, let me tell you that for the most part, the NRA hate meme is accurate but not the truth.
Back in the early 70s, there was an internal fight inside the NRA. There was a group in charge who believed in staying away from politics and that the organization should just dedicate itself to hunting and the shooting sports of the time. There was another group that saw how gun rights were eroding fast, specially after the Gun Control Act of 1968 and wanted to do something about it. Finally in 1975 during an annual meeting in Cincinnati , the old guard was knocked down and the new NRA was born which went on to form the lobby groups to fight further gun control.  You may want to take the time  and Google bout The Cincinnati Revolt.
So, although the NRA of 1934 supported the NFA and the other one didn't do shit against GCA 68, to assign those gigantic fails to the NRA of today is and underhanded tactic, worthy of our Gun Control enemies. We have seen Moms Demand and the Coalition to Stop Gun Violence use the same lies to erode at the base of the NRA. What I never suspected is that they were going to be so successful attracting Gun Owners to fall for it. And not only fall for it, but defend and spread the lie with a fanatical conviction.
Let's move to FOPA. Contrary to the meme, the Firearms Owner Protection Act is not a machine gun ban law. If anybody cared to research, it was actually designed to allow gun owners not to be trapped in interstate travelling with firearms when crossing gun hostile states and to correct many fails of GAC 68. Once again, the meme is accurate saying that the NRA supported FOPA because it did many good things.  Some of the stuff FOPA did: "The Firearm Owners Protection Act of 1986 (FOPA) addressed the (ATF) abuses noted in the 1982 Senate Judiciary Subcommittee report. Among the reforms intended to loosen restrictions on gun sales were the reopening of interstate sales of long guns on a limited basis, legalization of ammunition shipments through the U.S. Postal Service, removal of the requirement for record keeping on sales of non-armor-piercing ammunition, and federal protection of transportation of firearms through states where possession of those firearms would otherwise be illegal."
What it is misleading is that the meme does not mention specifically the Hughes Amendment, locking down the sales of new machine guns to civilians (not banning MGs as it says otherwise we would not have the Knob Creek shoot out twice a year, right?) and  which was added sometime after midnight the day they were discussing it and approved it via a very suspicious voice vote. Basically it was an amendment introduced when nobody was watching at the wee hours of the night and nobody noticed until it was too late.
I am just going to stop here because I have no idea about SHUSH or silencers legislation and I already covered bump stocks till I got sick. I urge to seek the information on your own, you don't have to believe me. Once you get your information, I want you to ask the people who keep repeating this bullshit storyline about the NRA:
"If your cause is righteous, why lie?"
PS: I swear I never expected to have this applied to another gun owner. It is depressing.
PS: And coming back saying "But the NRA fucked this other thing up" is not a valid excuse to allow what I just explained.