I can't imagine the pain of losing a child, especially losing a child in something like a school shooting.  I understand that grief does terrible things to a person's psyche, and in the immediate aftermath of a tragedy, people can do or think things that make so sense to a rational and sober person.
One of the problems with today's political climate is that rather than let these grieving parents alone, they are turned into activists and folk heroes, which exacerbates their emotional problems.
Rather than come back to a rational center (assuming they had one) they go further and further off into distraught la-la land.
Take the case of Manuel Oliver whose son, Joaquin was killed at Parkland.  Manuel has become an anti-gun/anti-NRA street artist activist.
His foundation – because now every parent starts a foundation after something like this – is called Change the Ref.
On a side note, this foundation thing makes me uncomfortable.   Trayvon's parents have the Trayvon Martin foundation.  There is Newtown Action, Orange Ribbons for Jamie, Parkland Survivors, etc.  They all seem to take in huge sums of money.  Yes, these people can say they are not doing it for the money, but when they are the center of attention at lucrative fund raisers, is that what they tell themselves so they don't feel like you are profiteering off tragedy.
So why is Oliver's foundation called Change the Ref?  Let Oliver explain in a Tweet.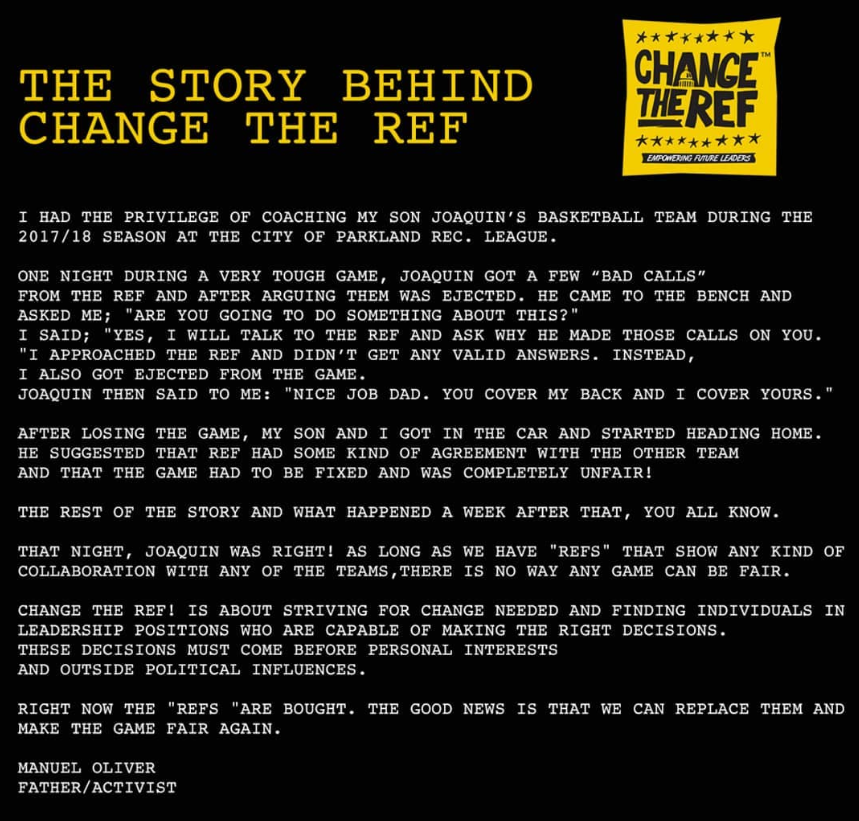 First thing, to an objective reader, it seems like this is a family of sore losers.  I know that sounds mean, but there is no evidence in this anecdote that they were ever proven right that the ref was biased.  They didn't like the outcome and so assumed they were the victims of dishonesty.
How this relates to politics is that anybody who opposes their gun control demands has been bought – presumably by the NRA and the system is unfair.  By refs they mean elected officials.
This is the narrative being constructed: politicians who support gun rights are dishonest and have been compromised, while the anti-gun politicians are honest, unbiased, and pure and clean as the driven snow.
That's wrong.  The vast majority of people who support gun rights do it because they honestly believe in it.  Moreover, this reduces the argument to "everyone who disagrees with me is a cheater and a bad person."  We've already seen how this "everyone who disagrees with me is a Nazi/Russian Bot/etc" has played out in political debate.  Hint: not well.
So where he and his side see Change the Ref as virtuous, to the outside it comes off as a sore loser accusing everyone on the other side of corruption.