When I first won, folks said we were too naive, inexperienced, and uninformed to be effective.

Yet in our first weeks, we elevated #GreenNewDeal to national urgency, secured 30 cosponsors on a Select Committee, and helped stop a bad tax rule.

I'd say we're off to a good start. https://t.co/rVWsoph2Ff

— Alexandria Ocasio-Cortez (@AOC) December 11, 2018
Yeah, take that all you nay sayers and people who questioned what a 29 year old bartender turned Congresswoman is capable of doing.
She helped overturn a bad tax rule for the incoming Congress.
What tax rule you might ask.  Well, this one.
We are pleased to announce that the Rules Package for the 116th Congress will not include the 3/5 supermajority tax provision promoted by House Republicans in recent years. https://t.co/4Be05Awv5j

— Progressive Caucus (@USProgressives) December 11, 2018
Under the Republicans it took a 3/5 super majority to pass a bill that raised taxes.
Under the incoming Democrats, it will only take a simple majority to raise taxes.
And the Democrats have a simple majority.
This is what makes AOC all tingly in her loins,  that the Democrats are making it a rule that they can pass a tax hike on the American people with a simple majority along entirely partisan lines.
This is why Democrats, with Pelosi at the lead, have spent the last two years calling the Trump tax cuts "crumbs" and telling the American people that the tax cuts are worthless and we should resent them.
They just can't wait to take that money away from us.
I have never seen a more accurate political cartoon: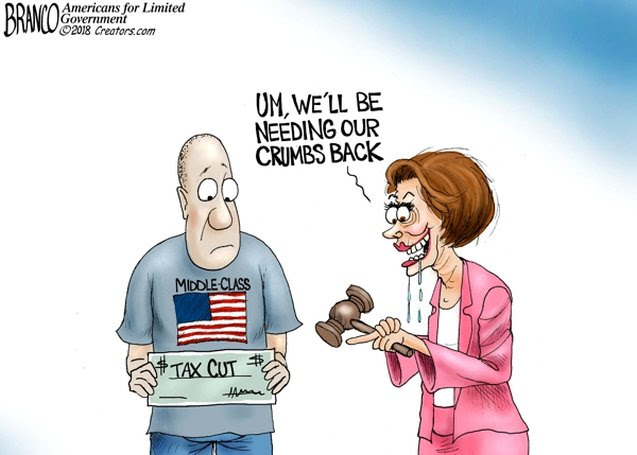 I for one am pissed as fuck about this.  I was enjoying my tax cut, and was especially looking forward to my tax return because I was supposed to be able to get credit for both of my kids, which I was unable to before because of my income level.
I guess when you spent the last few years serving drinks in Brooklyn, you know how to spend that  $4,500 of my money better than I do and I'm just going to have to re balance my budget without it.
I want to run for office campaigning on two Constitutional Amendments.
First: It should take a 2/3 majority of the House and Senate to pass a tax increase and only a simple majority to pass a tax cut or repeal a tax.
Second: Only people who have paid a net positive income tax, or are a member or dependent of the United States military, in the two years prior to an election get to vote.  You need to submit your tax returns or military or dependent documentation to the board of elections every two years to register to vote in a federal election.  If you don't have any skin in the game, no franchise for you.
Yeah, I want to restrict the vote.  So what.  A bunch of unemployed or part time barista progressive grievance studies majors with Hammer and Sickle tattoos on their fingers in Brooklyn and San Francisco shouldn't have the right to elect a Congressperson to take my money from me because I had the testicular fortitude to get a useful degree and high paying job.
Nothing makes a Progressive happier than taking your property at gun point.
Making it easier to tax the shit out of Americans has to have made AOC orgasmic.
I'd say the same thing about Pelosi but the idea of that old bag having an orgasm… *vomits*