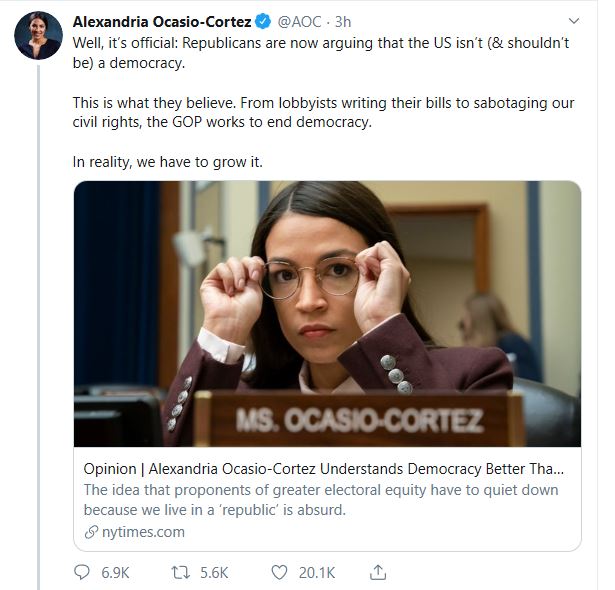 There is a story, often told, that upon exiting the Constitutional Convention Benjamin Franklin was approached by a group of citizens asking what sort of government the delegates had created. His answer was: "A republic, if you can keep it."
Perspectives on the Constitution: A Republic, If You Can Keep It
And yes, we are a Republic with a Democratic process included, but that is not what she is aiming at. She is after the Democracy I grew up with in which we did not elect representatives but and elected royalty. A Democracy in which the people voted itself clear of human rights and the ability not only to live in peace but to live free.  A democracy where the constitutions are re-written and interpreted as the Elected Royals see fit for their purpose because the people gave them absolute power via the democratic vote.  The people voted very democratically and elected their executioners.
The US has a very unique way of government: No matter how many votes you collect, our rights cannot be voted out of the Bill of Rights. This is something so very hard to understand in other countries. If the Many need something and a majority vote, the individual must endure for the good of the many.  The very traditional nd imbued American concept of saying "F*** you! It is my right", flip two birds and walk away ignoring the wishes of the majority is unheard of outside the US where the diabolical "Vox Populi Vox Dei" (The voice of the people is the voice of God.) is what the puppeteers use to rule the people. Speak against this dictum from above and you are to b shunned and punished, ostracized as some sort of selfish evil creature who does not care for others.
Do you want to know something funny? I think I have voted more times as US Citizen than as a Venezuelan. I know I voted the first time in 1978 and my last was in 1988 for a total of three elections. After the soft coup which knocked down President Perez, I figured I should not bother anymore and quit giving the idiots more power.
I became an US Citizen in 1999 and voted for the first time in 2000 and in the middle of the hanging chads controversy. And I have voted in every election ever since. That also makes for three Presidents and all the other elections in between for Congress, so at least what? Five or six elections?
And yes, God willing I am voting next year because I care for the Republic and I want to keep it.