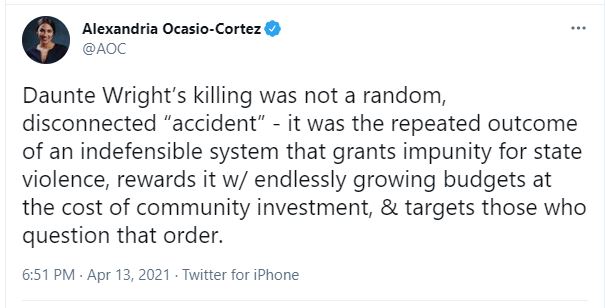 It is called the State's Monopoly on Killing and I covered this before.
"The state- that is the Crown- insisted on monopolizing for itself the act of homicide."
Richard Maxwell Brown
Of course she did not mean to praise the virtues of the Right of the People to keep and bear arms but rather to have you trust her and her friends on the new and improved Socialist Police Force, (with 60% more kindness and wokeness) and to rid the country of the old fascists in blue.
Dear AOC: You are part and parcel of the Monopoly whether you like it (which very likely you do) or not. It is our duty as citizens to keep you and your buddies in check and true to the oath you took. We can't do that disarmed because it is too tempting for the politicians and will break their promises and oath of office on the chance to partake the cake of Absolute Power.