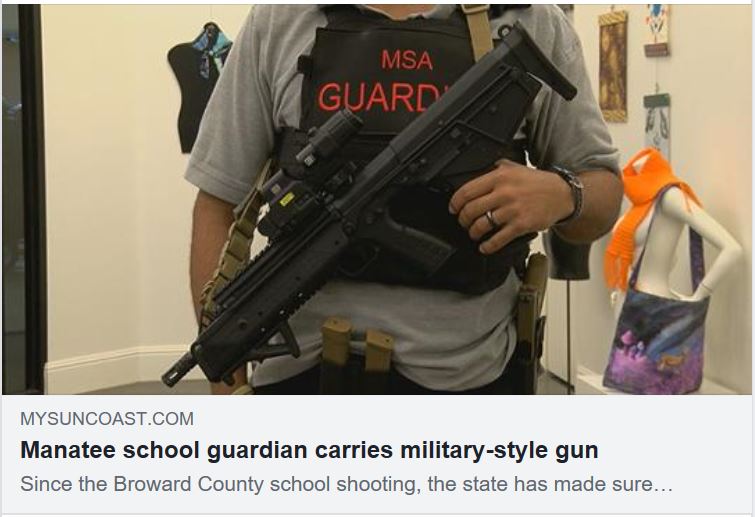 PALMETTO (WWSB) -Since the Broward County school shooting, the state has made sure security is tight around Florida schools.
At Manatee School for the Arts they have put a safety measure in place that is a little different than other schools across the Suncoast.
Because Manatee School for the Arts is a charter school, they're allowed to make their own rules about security. Just a few months ago they decided their school guardian would carry around a military-style long gun along with a handgun.
Manatee school guardian carries military-style gun
I read somewhere that Hope is not a sound tactical strategy. I am sure that there will be people pulling their hair and tearing their clothes at the idea that their precious babies must be in the same acreage as an Evil Black Rifle, even in the hands of a trained person.
"We've had a couple of incidents and we just called and they're here in three minutes. Unfortunately, you look at parkland and in three minutes how many people were killed. So you know you can't expect much more from the police, there's only so much they can do and the rest of it is your responsibility," said (The school's principal, Dr. Bill) Jones.
This is somebody who read the Parkland Report and I am sure was horrified to find out most of the dead and wounded happened in the first three minutes. And we know that three minutes is a fantastic police response time, but physics and time cannot be bypassed. The response to an attack must be as immediate as possible.
Dr. Jones said there's been mixed reaction to the gun in the school so far, but overall it's been positive. He said another guardian who will also carry a long gun will start working at the school very soon.
Well double good: Good reaction from the people and doubling down on security. May it keep the students from harm.