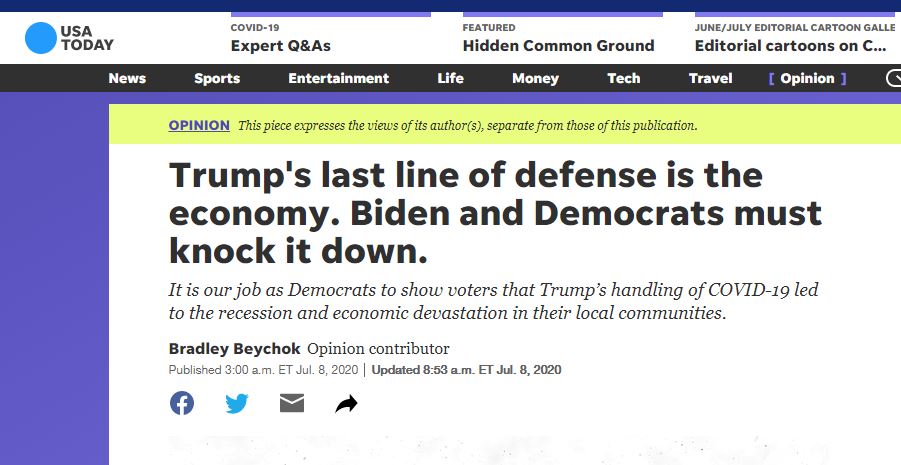 This is 100% panic. They tried Russian Collusion, they tried racism, they tried impeachment and even the Wuhan Virus when it was the Democratic-controlled  New York who acted as sprinkler to spread the virus across the nation. Hell yes, I am going to say it: Majority of the 130,000 deaths (so far) I lay right at the feet of Cuomo, Pelosi and Schumer.
They made their bed with Joe Biden and he still has traction because mostly he has been kept hidden away . Cuomo for a while was seen as proper substitute, but the mass killing of seniors in assisted living facilities by his policies has left a sour tastes even among New Yorkers. That does not mean he can be selected as VP and them slide in in case of the final Biden collapse after election. The clown show for other VP candidates is a bad joke because of all the racial and sexual overtones, but at the end, the Democrats will ignore the radical base and go with they think gives them the win.
But none of that will hap[pen if the economy  recovers even if it is not to the same levels as pre-Wuhan. CNBC published that "Record jobs gain of 4.8 million in June smashes expectations; unemployment rate falls to 11.1%"  and with people being tired of staying at home, elected officials are not willing to risk the public ire. In South Florida, the announced re-shutdown of restaurants and gyms fizzled with Broward and Miami Dade imposing only certain restrictions and even those are being protested.
They want you dead, and if not, at least broke, hungry, sick and homeless. They are betting people will forget who tanks the economy.
Somehow, I doubt that.