On Saturday, 8/27/2016, NBA Star Dwyane Wade's cousin, Nykea Aldridge was killed in a shooting in Chicago.  She was one of nine people killed, with 40 more wounded, in shootings in the Windy City this weekend.
Moms Demand Action posted this on their Facebook Page: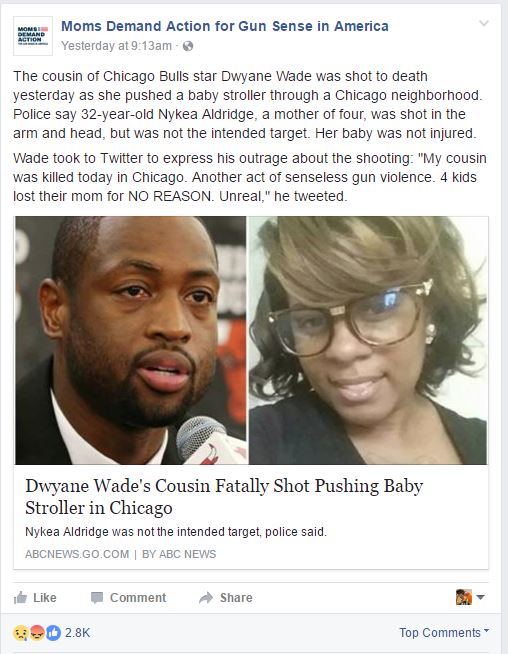 The Tweet they are referring to was this one from Dwyane Wade:

This is a man in mourning, so I don't want to be overly critical, but his cousin was not killed for "NO REASON."  True, she was not targeted in any way, and her death is tragic and senseless, but there is a reason that she was killed.
A cultural rot at the heart of Chicago's predominantly poor and black south side.   This interactive map gives you an idea of the danger zones in Chicago.
So what cultural rot am I talking about?  The two men that shot Nykea Aldridge were known gang members.  Both had previous felony conviction, one was on parole and the other had been wearing an ankle monitor at the time of the shooting.  It should be crystal clear, that these men where both prohibited persons and could not lawfully possess guns or have been issued FOIDs.
Chicago has some of the worst gang culture and gang violence in the country.  This is in part fueled by a black unemployment rate that is one of the worst in the country for metropolitan areas, with a staggering 47% of young black males neither working or in school.  Illinois' welfare policy encourages single mothers not to work perpetuating a cycle of unemployment and poverty.
The animosity between this community and police is both horrifying and protects criminals.  Young men harass the police who try to solve these murders  and treat black cops as race traitors.
(I can talk all day about the abuses of the Chicago PD, but if a community won't even let the police try to solve the murders in their area, all hope is lost)
Stop Snitchin' (available on YouTube) may have gained national notoriety in Baltimore, but believe me, as a former resident of the area, it alive and well (and heavily enforced) in Chicago.
The Chicago political machine is more than complicit in these murders and the deterioration of the City as city elected officials and politicians rely on gangs to "get out the vote" to keep them elected.
All of this leads to deadly spiral of calamity and is the root cause of why Nykea Aldridge was killed.
If Dwyane Wayde really wants to make a difference like his Twitter feed suggests: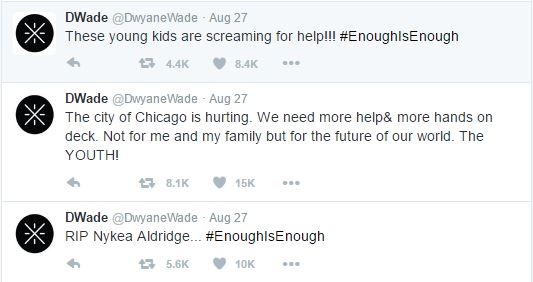 This is what needs to be addressed.
I'm afraid (call me skeptical) that this will turn into just another anti-gun push by a celebrity.  That will be just another useless, worthless, platitude that won't stop another pair of prohibited persons from obtaining an illegal firearm and opening fire for whatever gang related reason they have.