I am not gonna delve on the Michael Moore/American Sniper thing, but I do want to use a part of his Facebook page comment to address once again how disconnected they are from reality.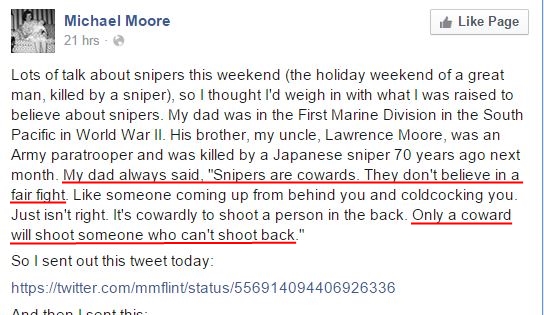 It is not a secret that the US Military hated the concept of the sniper basically since the Civil War and we did not have a proper policy and permanent units until the Vietnam War. Snipers from back then will tell you about the ostracism coming from regular soldiers and officers (Murder Inc. was one of the derogatory names used) who viewed them as stone cold killers…. that is until a sniper from the other side started to pick them off and the US Sniper suddenly became their best friend in the world.
But war is war. And in war, the idea is to destroy the enemy preferably by the most efficient way. To ask for a fair fight is an idiocy that will surely get you killed. In fact, the same people who bemoaned snipers had no problems setting ambushes which is also rather inconsiderate and unfair towards the enemy.
But we are not snipers nor we are at war, so what the heck does that apply to this mess? As civilians, we are lawfully given a very narrow window in which we can exercise deadly force and if we deviate just a little from that set of parameters, we will be facing dire consequences. Knowing that and knowing that our lives are in danger, it strikes me as supreme imbecility that some people expect us to "play fair" and give the criminal, a person not subjecting itself to the same norms we face, a chance to kill us just because they have some idiotic notion that all fights must be fair.
I recall an interview during Desert Storm where an officer with an armor unit was asked about the total whooping Saddam's tanks were getting and that our side was destroying it like they were standing still and made of paper mache. The journalist indeed ask this officer if he considered it a fair fight and the officer responded:
"A fair fight means all my people go back home alive."
And that is our goal, plain and simple.